Product SKU :
Product Status: View Only
×
We are not allowed to show our everyday low price on this item due to manufacturer pricing restrictions. However, with our Sun-Sational Savings and Price Match Guarantee, we're pretty sure you'll love our price. Give us a call at 972-239-3716, send us an email, or visit our 37,000 sq ft showroom and we'll be more than happy to get you a quote.

send us an email visit
Standard patio awnings come in the most common widths to cover patio or deck spaces. Standard awnings come with a choice of two frame colors, and hundreds of Sunbrella fabrics options.
IT'S EASY TO DETERMINE THE BEST AWNING SIZE FOR YOUR SPACE. FOLLOW THESE SIMPLE INSTRUCTIONS TO MEASURE YOUR SPACE.
1
You'll need to have an estimated size of your ideal shade footprint and provide that information to your sales consultant.
2
An awning cannot be mounted lower than 8.5 feet off the ground. If you do not have enough clearance, consider a soffit or roof mount.
3
An awning will require between 8" and 12" of space to be mounted to your wall. If you do not have enough space, consider a soffit or roof mount. You will also need to be sure that the span of wall where you'd like the awning to be attached to your home is free from obstructions like light fixtures and downspouts.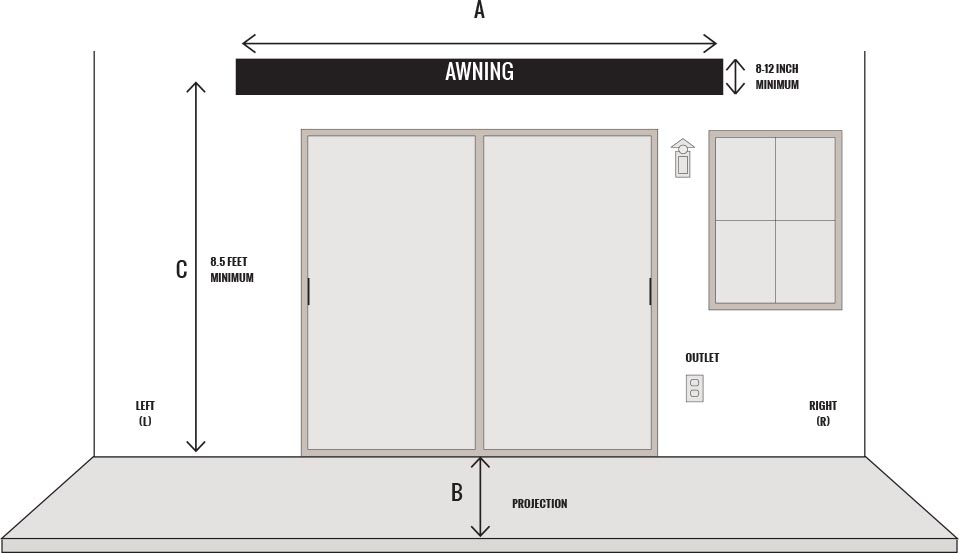 Sunnyland Furniture - Dallas / Fort Worth's Outdoor Casual Furniture Superstore | 7879 Spring Valley Road Dallas, TX 75254 | 972-239-3716
Copyright 1970-2019 &copy Sunnyland Outdoor Patio Furniture of Dallas Fort Worth - The Ultimate Casual Furniture Superstore for Texas