We would love to have you cook at the 6th Annual North Texas EggFest on Saturday, Octomber 22nd outside of Sunnyland Outdoor Living at Coit and Spring Valley in Dallas! It doesn't matter whether you are an experienced Egghead or you are newbie -- this event is the perfect opportunity to show off your skills and share your favorite recipes.
Cooking in an Eggfest is a great experience! Our guests are very friendly and want your expert advice on recipes, cooking techniques, etc. By participating in the Eggfest as a cook, you will get to become part off the EggHead family and receive your family benefits too:
All teams will receive Sunnyland employee pricing on any Big Green Egg items they want to purchase
Cash payouts for all teams based on how many People's Choice Tickets your team receives
Additonal prizes and gifts for our top team based on votes by our celebriy judging panel as well as the people's choice awards.
Special thank you gifts and more
In addition, all teams will receive the following:
• One (1) Big Green Egg of your choice to cook on during event (Large or X-Large)
• One (1) 10x10 Tent and One (1) 8ft Table
• Big Green Egg Lump Charcoal, Starter, Grid Gripper
• Conveggtor
• Food Handling Gloves
• Paper Towels
• Small Plates, 2oz. Sample Cups, Forks, Spoons, Toothpicks
• Soft Drinks, Water, Coffee, Snacks
• Product Samples from our Great Vendors
• And more perks TBA...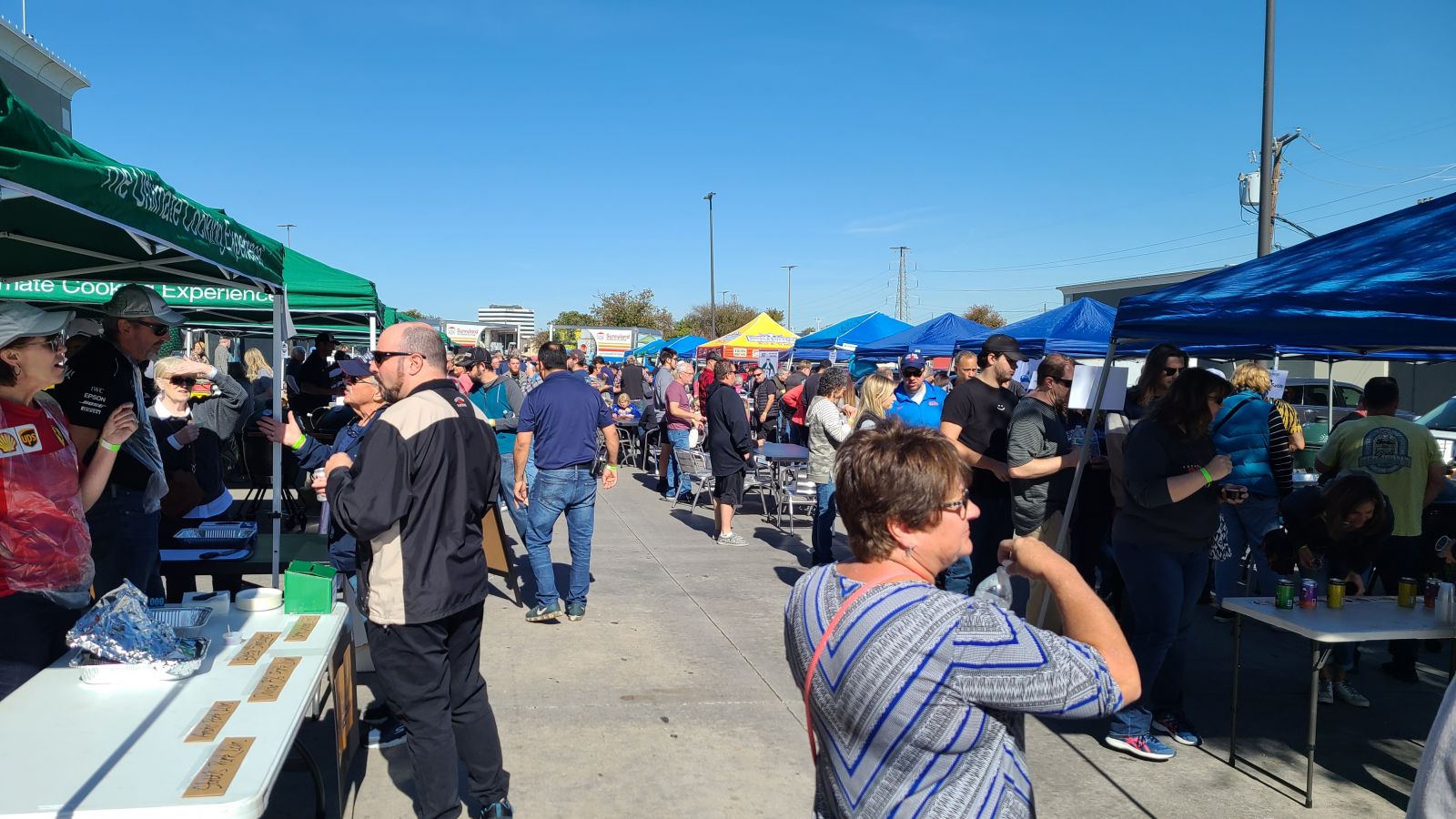 NEW FOR 2022
Every team will pay a $40 registration deposit to secure their team spot. This refundable deposit is to ensure that you show up and cook at the event.
You will get this money back the day of the event as long as you show up and cook (you can also voluntarily opt to donate this money to the Texas Restaurant Foundation - the choice is yours). As of right now, each paying guest will get 5 voting tickets worth 50 cents per ticket. Guests can give all 5 to one team or can split them up among multiple teams as they see fit.
Deposits will NOT be refunded if you fail to show up at the event or if you need to cancel once we have pre-sold your demo egg.
If you would like to sign up to showcase your skills on the Big Green Egg, or if you would like more information on cooking at our Eggfest email us at eggfestdallas@sunnylandfurniture.com or call Brad at 972-239-3716.
READY TO REGISTER? Click here to sign your team up.

If you are a local restaurant, chef, food supplier, or vendor (but are not able to cook at the event), click here for more info on how you can particpate in EggFest.
ADDITIONAL DETAILS:
You should plan on providing minimum of 250 to 500 small tastings/samples to other guests (more is fine of course). Samples could be wings, meatballs, slices of cake, or many other bite size pieces. For example, a boneless skinless chicken thigh could be cut into 4 to 8 pieces, and served perhaps on a toothpick or in a small cup. Remember, cooks are providing tastings, not a meal.
Big Green Egg lump charcoal, toothpicks, and sample cups will be provided but you will need to provide any other tools and accessories you might need to do the cook. If you forgot something you can probably borrow it from another Egghead or purchase it from Sunnyland with your EggHead family member discount.
Long cooks such as brisket and ribs are discouraged due to the timing of the event (you are welcome to arrive earily in the morning if you are interested though). It is important to remember that an Eggfest is about sharing ideas, recipes and introducing others to food cooked on the Big Green Egg, so keeping food samples available is important.
However, beyond that, the options are limited only by your imagination. Consider quick cooks like steaks (flank, skirt, London broil, etc), chicken pieces, pork loins, tenderloins, chops or country style ribs, shrimp or meat on skewers, Soups or Stews in Dutch ovens, etc. You can put your own "style" in your cook by using unique rubs, sauces, techniques, ingredients, etc.
Also, there is no reason for you to limit your thinking to a particular meal. You can do appetizer finger type foods, desserts, or perhaps a few will even decide to do a breakfast cook. Breakfast meals are always welcome to Early Birds.
During the day, keep in mind that many of the attendees are either new Egg owners or perhaps considering buying an Egg. Expect them to ask you questions about your recipe, technique, setup, temperature, accessories, experiences, etc. We hope to have the cooking area set up in such a way that your work table/serving table should provide a natural barrier to keep guests out of your cooking space and away from the hot Eggs. Please keep guest safety and an isolated work space in mind when setting up for the actual cook.
Sunnyland Furniture - Dallas / Fort Worth's Outdoor Casual Furniture Superstore | 7879 Spring Valley Road Dallas, TX 75254 |
972-239-3716
Copyright 1970-2023 &copy Sunnyland Outdoor Patio Furniture of Dallas Fort Worth - The Ultimate Casual Furniture Superstore for Texas