Showroom Partners
You already know that Sunnyland is your #1 source for outdoor furniture and accessories. But did you know that Sunnyland can help you build a complete outdoor living room from start to finish?
We are proud to partner with a very select group of companies in the North Texas area to provide you with one-stop shopping for your patio. Stop by our showroom to check out their workmanship or visit their websites for more information.
Original Landscape Concepts
With 40 years of award winning landscape design and construction, Original Landscape Concepts can help you create your own unique outdoor landscape and design from large scale project and small spaces to pools, spas, water effects and fountains.
www.originallandscapeconcepts.com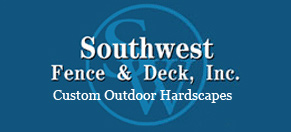 For 30 years, Southwest Fence & Deck has been the premier fence and decking company in the DFW area. From arbors and decks to fences, gates and iron work, Southwest Fence & Deck works with you every step of the way to ensure your design project is exactly the way you want.

ATD Concrete Coatings
For over 34 years, ATD Concrete Coatings has been doing business in the north Texas area. ATD is dedicated solely to concrete coatings for residential and commercial properties. From driveway resurfacing, deck restoration, patio repair to a more challenging project such as industrial epoxy flooring, stamped overlays and professional concrete staining, ATD has the products and knowledge to turn your vision into a reality.
Sunnyland Furniture - Dallas / Fort Worth's Outdoor Casual Furniture Superstore | 7879 Spring Valley Road Dallas, TX 75254 |
972-239-3716
Copyright 1970-2023 &copy Sunnyland Outdoor Patio Furniture of Dallas Fort Worth - The Ultimate Casual Furniture Superstore for Texas