Third Annual Turkey Time EggFest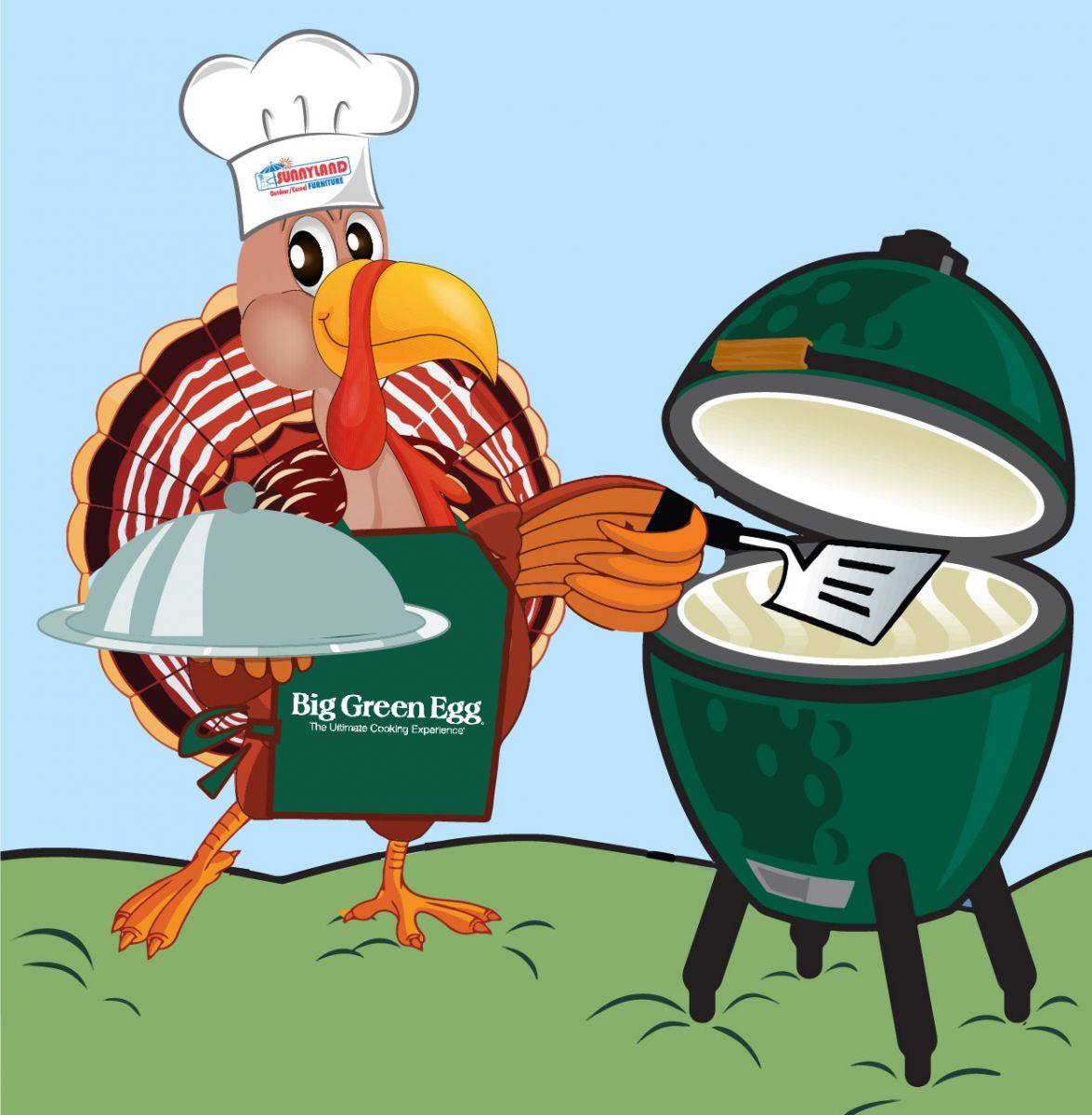 Sunnyland Patio Furniture (family owned and locally operated since 1970) will hosting its Third Annual Turkey Time EggFest benefiting The Family Place.
On Saturday, November 2nd, foodies, fans, and EGGheads from around the metroplex will share in their love for cooking on the Big Green Egg. Teams will compete on the ULTIMATE cooking machine, to demonstrate their prowess and test out secret recipes for ultimate bragging rights as the 2019 Turkey Time EGGhead of the year. Additionally, there will be live music, food, and fun for the whole family as guests get to see live demonstrations, try out complimentary samples, plus shop the Turkey Time Marketplace where you can find everything you need for complete your thanksgiving feast.
The Turkey Time EGGfest is an annual event, now in its 3rd year, celebrating the Big Green Egg and all of its wonders. 25+ Eggs, 25 teams, 70+ cooks, celebrity chefs, and around 1,000 folks ready to learn and enjoy an incredible day while helping us raise over $5000 for The Family Place to support their mission of helping victims of family violence.
DISCOUNTED DEMO EGGS will go on sale online in mid-September 2019.
Third Annual Turkey Time EggFest Cook Team & Vendor Registration Is Now Open
COOK TEAMS (& RESTAURANTS TOO)
Registration for the Turkey Time EggFest benefiting the Family Place is now open. This year we have an easy to fill out on-line forms which means no more pens and paper or having to scan a printout. Anyone who is cooking food on a Big Green Egg, whether they are an amateur, a restaurant, or representing a product, is considered a cook team for this event. To sign up, click here:
COOK TEAM SIGN UP FORM
Cooking in an Eggfest is a great experience! Our guests are very friendly and want your expert advice on recipes, cooking techniques, etc. By participating in the Eggfest as a cook, you will get to become part off the EggHead family. In addition, all teams will receive the following:
One (1) Big Green Egg of your choice to cook on during event (L, XL or MX)
One (1) 10x10 Tent and One (1) 8ft Table
Big Green Egg Lump Charcoal, Starter, Grid Gripper
Conveggtor
Food Handling Gloves
Paper Towels
Small Plates, 2oz. Sample Cups, Forks, Spoons, Toothpicks
Soft Drinks, Water, Coffee, Snacks
Sunnyland Employee Pricing on BGE Products
Ten (10) Free Raffle Tickets
Product Samples from our Great Vendors
People's choice Awards - Top Teams will win prizes & gift cards
And more perks TBA...
VENDOR REGISTRATION
Vendor registration is now open. We have a limited number of spaces indoors with electricity and the rest of the spaces are outdoors. Priority for indoor spaces will be given to those that are serving food and drink samples or those who must have electricity. Full details are on the vendor form.
The vendor fee this year is $50 payable as a tax-deductible donation DIRECTLY to The Family Place. Please make a $50 donation to the Family Place via the link below, make sure to put EggFest in the tribute section, and send us a copy of your donation receipt to eggfestdallas@sunnylandfurniture.com.
We look forward to seeing many new and returning faces on Saturday, November 2nd, 2019.

Sunnyland Furniture - Dallas / Fort Worth's Outdoor Casual Furniture Superstore | 7879 Spring Valley Road Dallas, TX 75254 | 972-239-3716
Copyright 1970-2019 &copy Sunnyland Outdoor Patio Furniture of Dallas Fort Worth - The Ultimate Casual Furniture Superstore for Texas