Join us for our Store Events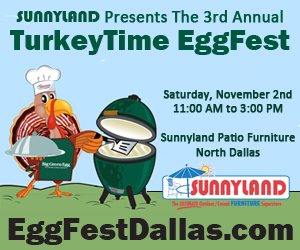 SAVE THE DATE: The third annual Turkey Time EggFest will be taking place on Saturday, November 2nd, 2019 at Sunnyland. Check back soon for complete details and registration information.

QUICK LINKS
Schedule Of Events
Discounted Demo Eggs & Accessories
Charity Raffle
Turkey Time Marketplace
Be An EggHead Cook
Our Partners, Sponsors, Vendors, & Donors

ALL DEMO EGGS ARE SOLD. HOWEVER, WE HAVE EGGFEST PRICING IN EFFECT IN-STORE WHICH IS ALMOST A CHEAP AS THE DEMO EGGS.
If you are in the market for Big Green Eggs, you will not find better pricing than what you will find on gently used demo eggs from EggFest. These eggs have full warranties and have been broken in by some of the best amateur EggHead chefs in the country. There are a limited amount of Demo Eggs available for purchase.
The essentials package includes the egg, nest, and conveggtor. The complete packages also include eggmaters, grid gripper, ash tool, charcoal, and firestarter.
CANCELLATIONS / REFUNDS
To reserve an egg, you must put down a 50% deposit. After November 1st, your deposit amount is no longer refundable. If you have paid the full amount, we can only refund 50% of the purchase price after that date. The only exception to this policy is if we have a waiting list and are able to find someone else to purchase your egg.
EGG PICKUP / DELIVERY
If you would like to pick up your egg, you may pick it up starting on Sunday, November 11th during your designated pickup window or anytime on or after Monday, November 12th. If you would like your egg delivered, please select $99 local dellivery at the time of checkout. We will NOT ship demo eggs under any circumstances.

Win a MiniMax Big Green Egg or one of dozens of other great prizes at our charity raffle benefiting Focus on Teens. Raffle tickets are $2 each, 4 for $5, or 25 entries for $20 and all proceeds go directly to Focus on Teens.
ABOUT FOCUS ON TEENS
Focus on Teens offers a holistic approach to reach teens at the early stages of homelessness. We are honored to provide Drop-In Centers for homeless teens on high school campuses within Dallas and Fort Worth Independent School Districts. Focus On Teens also offers four core focus areas for teens, parents and teachers: Emergency Food and Supplies, Drug Abuse Prevention and Awareness, Suicide Prevention, Healthy Living (a Mental Health Awareness Seminar) and our "Get Started" Intern Program. Our programs are flexible and developed in conjunction with both the individual student's and school's needs.



Our TurkeyTime Marketplace will have everything you need for your Big Green Egg as well as your Thanksgiving feast. Check out our vendor and partner list (with more to come)

| | | |
| --- | --- | --- |
| | | |
| | | |
| | | |
| | | |
| | | |
| | | |
| | | |
| | WineauxGuy - Andy Gonzales | and more to come... |
If you would like to submit your product or business to be considered for the marketplace, please email eggfest18@sunnylandfurniture.com. Space is FREE with a contribution to our charity raffle. **MARKETPLACE IS NOW FULL FOR 2018 **

We would love to have YOU cook at our Big Green Eggfest 2018! Whether you are a seasoned Egghead or you are new to cooking on the BGE this event is the perfect opportunity to share your favorite recipes and show off your skills!
By registering to participate in the 2018 Dallas Eggfest as a cook, you will get to share in the comradery of the Eggheads and be afforded special privileges during the event including our best discounts on Big Green Egg products and fun giveaways and prizes. For more information and to sign up, please click here.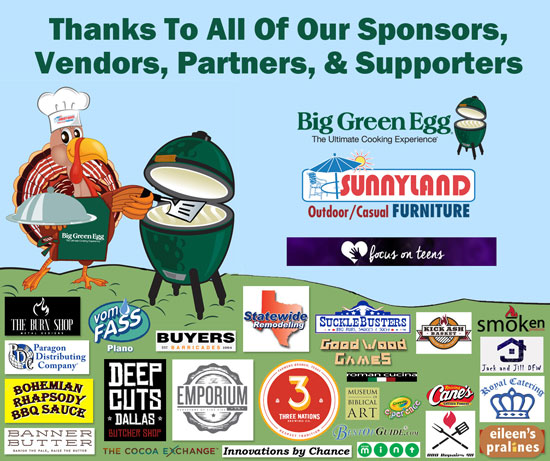 Sunnyland Furniture - Dallas / Fort Worth's Outdoor Casual Furniture Superstore | 7879 Spring Valley Road Dallas, TX 75254 | 972-239-3716
Copyright 1970-2019 &copy Sunnyland Outdoor Patio Furniture of Dallas Fort Worth - The Ultimate Casual Furniture Superstore for Texas