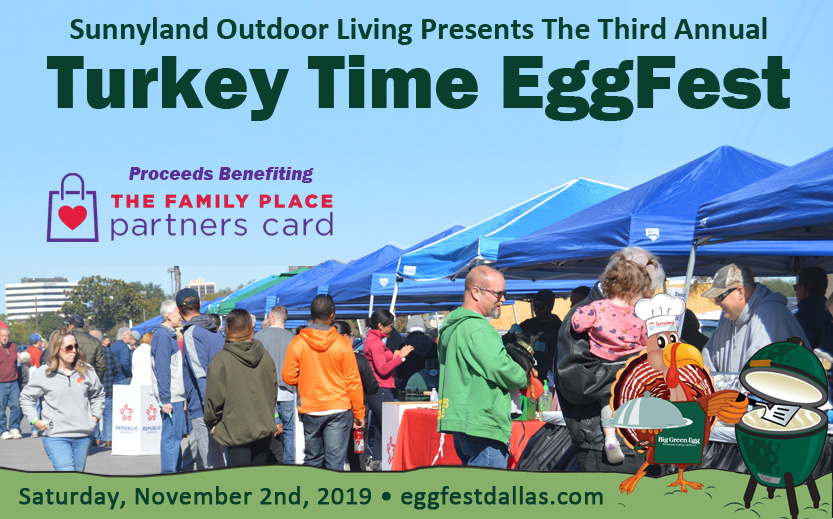 Click here for select recipies from the 2019 EggFest

On Saturday, November 2nd from 11-3, foodies, fans, and EGGheads from around the metroplex will share in their love for cooking on the Big Green Egg at Sunnyland Outdoor Living in Dallas. Teams will compete on the ULTIMATE cooking machine, to demonstrate their prowess and test out secret recipes for ultimate bragging rights as the 2019 Turkey Time EGGhead of the year. Additionally, there will be live music, food, and fun for the whole family as guests get to see live demonstrations, try out complimentary samples, plus shop the Turkey Time Marketplace where you can find everything you need for complete your thanksgiving feast.
The Turkey Time EGGfest is an annual event, now in its 3rd year, celebrating the Big Green Egg and all of its wonders. 25+ Eggs, 25 teams, 70+ cooks, celebrity chefs, and around 1,000 folks ready to learn and enjoy an incredible day while helping us raise over $5000 for The Family Place to support their mission of helping victims of family violence.
ADMISSION & EVENT DETAILS
Saturday, November 2, 2019
Sunnyland Outdoor Living in Dallas
11 AM to 3 PM
Admission is a suggested donation of $5 per adult to the Family Place, free for kids, and free for the entire family with your 2019 Partners Card benefiting The Family Place. Partners Cards are available for purchase at Sunnyland for $70 each and valid for great savings at over 700 retailers in the DFW area.
Your admission includes:
• unlimited food samples
• cooking demos
• bottled water
• live music by Cafe Society
• 1 raffle ticket (additional tickets are availble for purchase)
• face painting for the kids courtesy of Rainbow Entertainment
COOKING DEMOS
11:30 AM - Chef Janice Brooks
Janice Brooks is a private chef and caterer who studied at El Centro Culinary College. She has worked internationally with several talented chefs and is a supporter of women and children charities.
12:30 PM - Corey Proctor
Former NFL Player for Detroit Lions, Dallas Cowboys and Miami Dolphins. Corey is a professional speaker, trainer and loves to grill.
1:30 PM - George Miller
Founder of 28 Seasons Spice, BBQ Sauce and Seafood Batter George is famous for soul food cooking and has won numerous awards for his grilling recipes.
COOK AT THE TURKEY TIME EGGFEST

Registration for the Turkey Time EggFest benefiting the Family Place is now open. This year we have an easy to fill out on-line forms which means no more pens and paper or having to scan a printout. Anyone who is cooking food on a Big Green Egg, whether they are an amateur, a restaurant, or representing a product, is considered a cook team for this event. For complete details and to sign up, click here.
DISCOUNTED DEMO EGGS

DISCOUNTED DEMO EGGS ARE ON SALE NOW. Click here to reserve your egg.
VENDOR REGISTRATION

Vendor registration is now open. We have a limited number of spaces indoors with electricity and the rest of the spaces are outdoors. Priority for indoor spaces will be given to those that are serving food and drink samples or those who must have electricity. Full details are on the vendor form.
The vendor fee this year is $50 payable as a tax-deductible donation DIRECTLY to The Family Place. Please make a $50 donation to the Family Place via the link below, make sure to put EggFest in the tribute section, and send us a copy of your donation receipt to eggfestdallas@sunnylandfurniture.com.
SPONSORS, VENDORS, & PARTNERS
Thanks to everyone who has made this event possible this year. We couldn't do this without all of our friends out there.
Sunnyland Furniture - Dallas / Fort Worth's Outdoor Casual Furniture Superstore | 7879 Spring Valley Road Dallas, TX 75254 | 972-239-3716
Copyright 1970-2020 &copy Sunnyland Outdoor Patio Furniture of Dallas Fort Worth - The Ultimate Casual Furniture Superstore for Texas