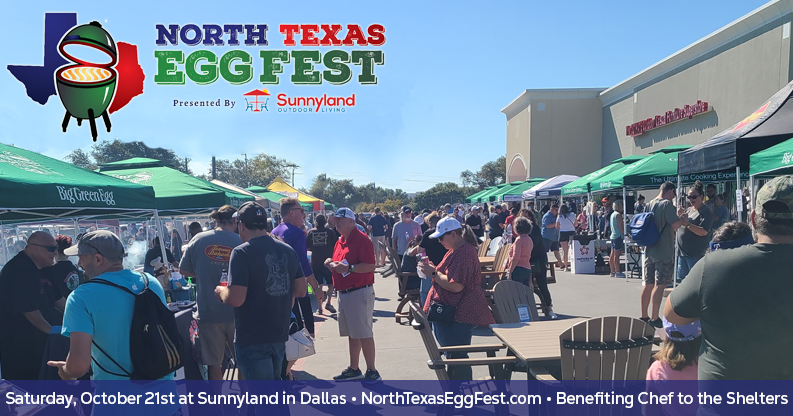 DISCOUNTED DEMO EGGS NOW ON SALE
Experience the culinary extravaganza of the year at the 7th Annual North Texas EggFest, a thrilling Big Green Egg culinary event hosted at Sunnyland Outdoor Living in North Dallas on Saturday, October 21st, 2023, from 11 AM to 3 PM. This highly anticipated fest is not only about indulging in delicious food but also about giving back to the community, with proceeds benefiting Chef to the Shelters. Get ready for a day filled with delightful food, fantastic cooking demos, live music by the talented Jake Odin, exciting raffle prizes, and more surprises!
What to Expect:
Cooking Demonstrations: Learn the tricks of the trade from the experts at Crossbuck BBQ, The Meat Board, Culinary Community Kitchen, and The Board Lady.
Wild Fork Foods Flavor Zones: Experience the excitement as teams present their unique ways of preparing premium meats, adding a dash of creativity to the fest.
Delicious Samples: Treat your taste buds as over 20 cook teams serve up an array of mouthwatering samples
Celebrity Judges: Come meet our panel of judges including Sara Blaskovich of the Dallas Morning News, Todd David of Cattleack BBQ, Kristin Diaz of Newsradio 1080 KRLD, Brandon Todd of Fox 4 Good Day, and Chef David DeLeon of Quema Mas Carbon
Live Music: Groove to the upbeat tunes of Jake Odin, setting the perfect ambiance for the event.
Special Offers: Grab the chance to get your hands on a limited number of discounted demo Big Green Eggs
Whether you're a seasoned EggFest pro or just starting your culinary journey, this event is for all skill levels. Sign up to cook and showcase your Big Green Egg cooking expertise, or simply relish the incredible dishes prepared by others.
By attending the 7th Annual North Texas EggFest, you're making a difference in the lives of individuals in sober transition homes and sober living facilities, thanks to Chef to the Shelters' noble cause.
Don't miss out on this extraordinary day of food, fun, and community bonding! Bring your friends and family, and let's make this metroplex Big Green Egg EggFest an unforgettable experience. Get more details and purchase advanced tickets at NorthTexasEggFest.com

Stay informed about upcoming discounts on demo eggs and event tickets this summer by signing up for our email updates or following us on Facebook. Don't miss out on the latest news and be the first to know when the sales begin.
Cooking for a Good Cause
Proceeds for 2023's event benefit Chef to the Shelters. Founded by Michael McCoy in 2021, Chef to the Shelters provides meals which speak of dignity and respect to sober transition homes and sober living homes to men and women in early sobriety who have taken their first steps in recovery to regain their lives. Their mission is "to provide meals and share our experience, strength and hope with men and women early in their recovery through our walk in faith and our journey in sobriety"

2023 COOK TEAM REGISTRATION IS NOW OPEN
Whether it's your first EggFest or you are a pro, everyone is welcome to show off their Big Green Egg cooking skills. Our ideal cooking teams include amateurs, restaurants, first timers, local chefs, or even a local business who is looking to make new connections or promote their products. Many of our cooks from previous years talk about how they have inspired a newbie to try something new on their egg. For more information on cooking at the North Texas Eggfest, click here.

Discounted demo eggs are now on sale. Quantites are limited. If we are out today, check back in a few weeks as we will continue to add eggs as teams register for the event.

We'll answer your most frequenty asked questions here and continue to add to the list as we receive inquiries.

Want to reach some talented Big Green Egg chefs and a couple hundred food-loving attendees? We're looking for great partners and sponsors to help us create a bigger and better event. Whether you are a local restaurant, a butcher shop, or just wanting to promote your products or brand, we have low cost and even FREE in-kind options for you to join us at this years event. You can learn more about our options here.
North Texas Eggfest is presented by Sunnyland Outdoor Living in Dallas. For more information or questions, email eggfest@sunnylandfurniture.com or call Brad at 972-239-3716.
Sunnyland Furniture - Dallas / Fort Worth's Outdoor Casual Furniture Superstore | 7879 Spring Valley Road Dallas, TX 75254 |
972-239-3716
Copyright 1970-2023 &copy Sunnyland Outdoor Patio Furniture of Dallas Fort Worth - The Ultimate Casual Furniture Superstore for Texas