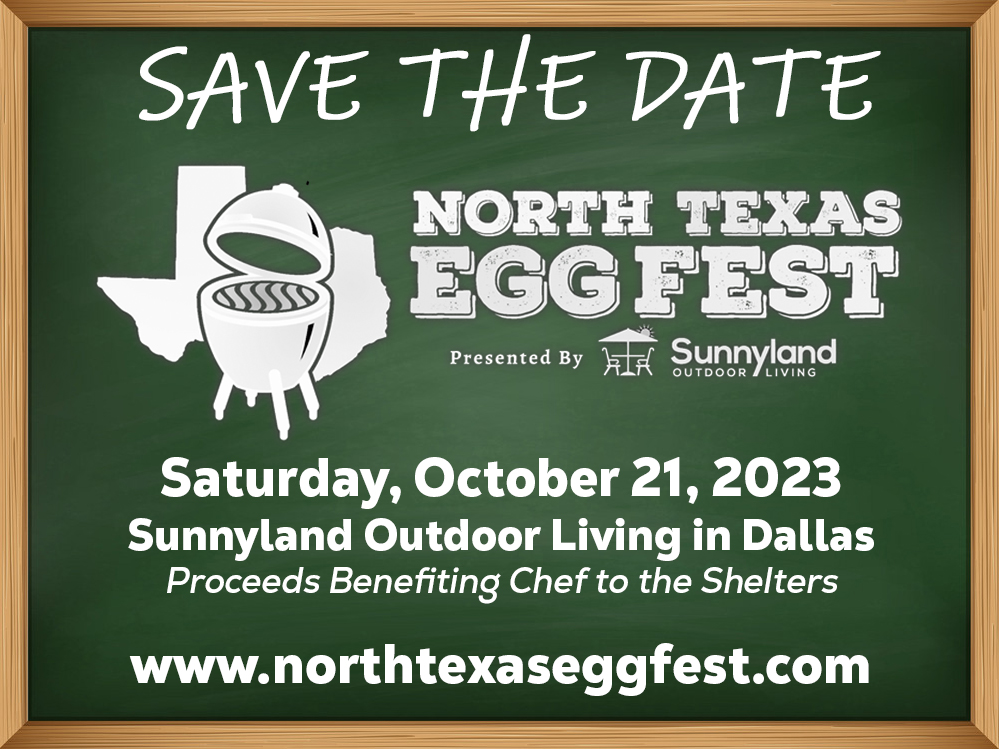 We officially have a date for the 7th Annual North Texas EggFest. We'll see you on Saturday, October 21st, 2023 at Sunnyland in North Dallas.
We are also excited to welcome Chef to the Shelters as our non-profit partner this year. Chef to the Shelters is a nonprofit organization which feeds over 27 sober transition shelters, sober detox centers and sober living homes totaling more than 500 men and women on a monthly basis in the DFW Metroplex.
Each ticket will include General Admission to the event, complimentary water and soft drinks, & Unlimited Samples.
ABOUT OUR 6TH ANNUAL NORTH TEXAS EGGFEST FROM 2022
Sunnyland Outdoor Living hosts the 6th Annual North Texas EGGfest on Saturday, October 22, 2022. This family-friendly event features teams competing on the Big Green Egg to win bragging rights as the 2022 North Texas EGGhead of the Year. Guests will be able to vote for their favorite items prepared on the Big Green Egg.
Guests will enjoy tasty samples, live music by Jake Odin and receive special deals on Big Green Eggs and quality outdoor furniture. Carter Bloodcare will be hosting a community blood drive at the event as well.

Celebrity judges for the 2022 event included writer Sara Blaskovich of the Dallas Morning News, Chef Randy White of Live Fire Culinary, Roni Proter of Dinner Reinvented, owner David Cole of i Fratelli Pizza, and Taryn Jones of KTVT / CBS11.
Cooking for a Good Cause
Proceeds for 2023's event benefit Chef to the Shelters. Founded by Michael McCoy in 2021, Chef to the Shelters provides meals which speak of dignity and respect to sober transition homes and sober living homes to men and women in early sobriety who have taken their first steps in recovery to regain their lives. Their mission is "to provide meals and share our experience, strength and hope with men and women early in their recovery through our walk in faith and our journey in sobriety"

REGISTRATION IS STILL OPEN TO WIN CASH AND PRIZES
Whether it's your first EggFest or you are a pro, everyone is welcome to show off their Big Green Egg cooking skills. Our ideal cooking teams include amateurs, restaurants, first timers, local chefs, or even a local business who is looking to make new connections. Many of our cooks from previous years talk about how they have inspired a newbie to try something new on their egg. For more information on cooking at the North Texas Eggfest, click here.

We'll answer your most frequenty asked questions here and continue to add to the list as we receive inquiries.

Want to reach some talented Big Green Egg chefs and a couple hundred food-loving attendees? We're looking for great partners and sponsors to help us create a bigger and better event. Whether your a local restaurant, a butcher shop, or just wanting to promote your produtcts or brand, we have low cost and even FREE in-kind options available for you to review here.
North Texas Eggfest is presented by Sunnyland Outdoor Living in Dallas. For more information or questions, email eggfest@sunnylandfurniture.com or call Brad at 972-239-3716.
Sunnyland Furniture - Dallas / Fort Worth's Outdoor Casual Furniture Superstore | 7879 Spring Valley Road Dallas, TX 75254 |
972-239-3716
Copyright 1970-2023 &copy Sunnyland Outdoor Patio Furniture of Dallas Fort Worth - The Ultimate Casual Furniture Superstore for Texas