The 4th Annual Turkey Time EggFest will be happening virtually this year from the comfort of your own home. The in-person event is cancelled for this year. We will have additional information on the virtual event as well as our EggFest specials and pricing coming soon.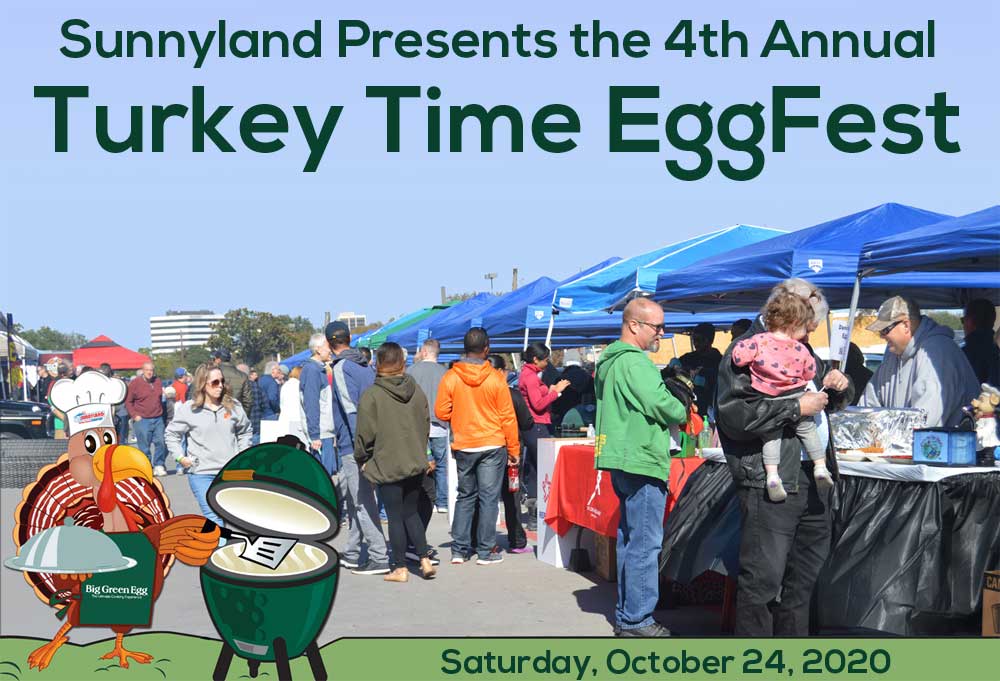 Sign up for EggFest updates including registration and demo egg sales by clicking here.
2020 will be the fourth annual Turkey Time EggFest in North Texas. This is a family-friendly celebration of all things big, green, and grilled! On Saturday, October 24th, over a thousand foodies, fans, and EGGheads from around the state plus our celebrity judge team will descend outside Sunnyland's flagship location to share in their love for grilling out on the Big Green Egg. Teams will compete on the ultimate cooking machine, to demonstrate their prowess and test out secret recipes for cash prizes and the ultimate bragging rights as the 2020 North Texas EggHead of the Year. Additionally, there will be live music, food and fun for the whole family as guests get to see live demonstrations, try out complimentary samples, and see the latest in EGGcessories.
Ticket sale proceeds benefit the Greater Dallas / Texas Restaurant Association Education Foundation Established in 1994 by the Texas Restaurant Association, the TRA Education Foundation is a 501c3 non-profit organization focused on providing the necessary resources to help restaurateurs confront educational and labor challenges with the latest innovations in education, technology, and training.
This years celebrity judge team includes Newsradio 1080 Chief Meterologist Dan Brounoff, Trey Champans of TreysChowDown.com, and Sarah Blaskovich of the Dallas Morning News (and more TBA).

FREQUENTLY ASKED QUESTIONS
BE AN EGGHEAD COOK
PARTNERSHIP OPPORTUNITIES
2019 SPONSORS, VENDORS, & PARTNERS
Thanks to everyone who has made this event possible this year. We couldn't do this without all of our friends out there.
Sunnyland Furniture - Dallas / Fort Worth's Outdoor Casual Furniture Superstore | 7879 Spring Valley Road Dallas, TX 75254 |
972-239-3716
Copyright 1970-2020 &copy Sunnyland Outdoor Patio Furniture of Dallas Fort Worth - The Ultimate Casual Furniture Superstore for Texas