5th Annual North Texas EggFest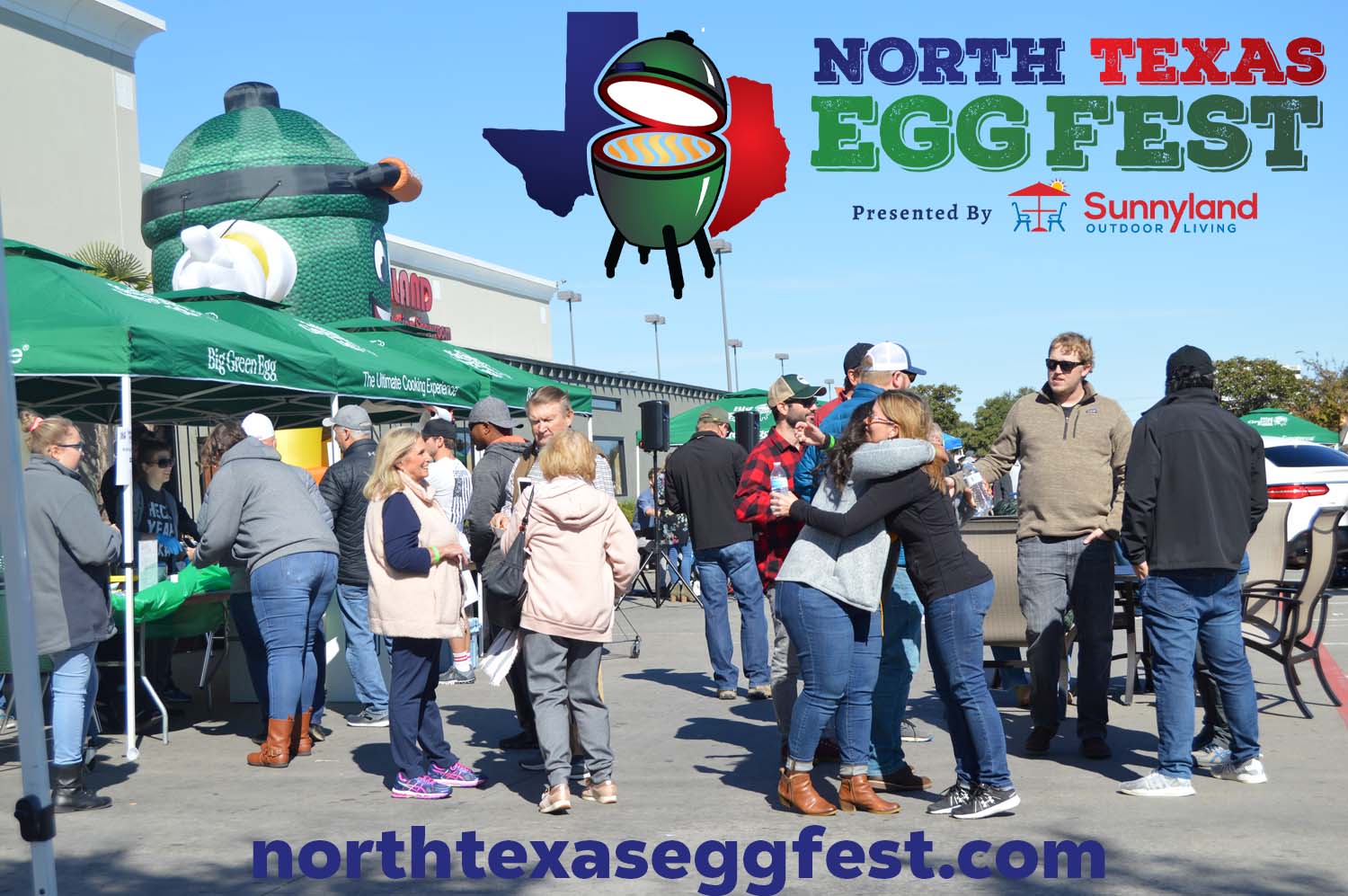 Join us for the 5th Annual North Texas EggFest at Sunnyland Outdoor Living at Coit and Spring Valley in Dallas on Saturday, November 13th, 2021 from 11 AM to 3 PM. Formerly known as the Turkey Time EggFest, this annual event will have cooking demonstrations, delicious samples, live music, amazing deals on demo Big Green Eggs, and much more. Proceeds from this event benefit the Texas Restaurant Foundation which provides educational opportunities to build and maintain a strong professional foodservice workforce in Texas
Make sure to follow our Facebook page or sign up for our email list to ensure you are the first to be notified when registration opens for teams and demo eggs go on sale.

Whether it's your first EggFest or you are a pro, everyone is welcome to show off their Big Green Egg cooking skills. Our ideal cooking teams include amateurs, restaurants, first timers, local chefs, or even a local business who is looking to make new connections.Many of our cooks from previous years talk about how they have inspired a newbie to try something new on their egg. For more information on cooking at the North Texas Eggfest, click here.

We'll answer your most frequenty asked questions here and continue to add to the list as we receive inquiries.

Want to reach some talented Big Green Egg chefs and a couple hundred food-loving attendees? We're looking for great partners and sponsors to help us create a bigger and better event.
Whether your a local restaurant, a butcher shop, or just wanting to promote your brand, we have low cost and zero cost options available for you to review here.

Discounted demo eggs will go on sale in mid-September. Once these go on sale, they will sell out fast. Make sure you are signed up for our EggFest email list and are following our Facebook, Twitter, and Instagram pages to be the very first to find out when the demo eggs go on sale.
North Texas Eggfest is presented by Sunnyland Outdoor Living in Dallas. For more information or questions, email eggfest@sunnylandfurniture.com or call Brad at 973-239-3716.
Sunnyland Furniture - Dallas / Fort Worth's Outdoor Casual Furniture Superstore | 7879 Spring Valley Road Dallas, TX 75254 |
972-239-3716
Copyright 1970-2021 &copy Sunnyland Outdoor Patio Furniture of Dallas Fort Worth - The Ultimate Casual Furniture Superstore for Texas