Join us in 2020 for the 4th Annual Virtual Turkey Time EggFest @Home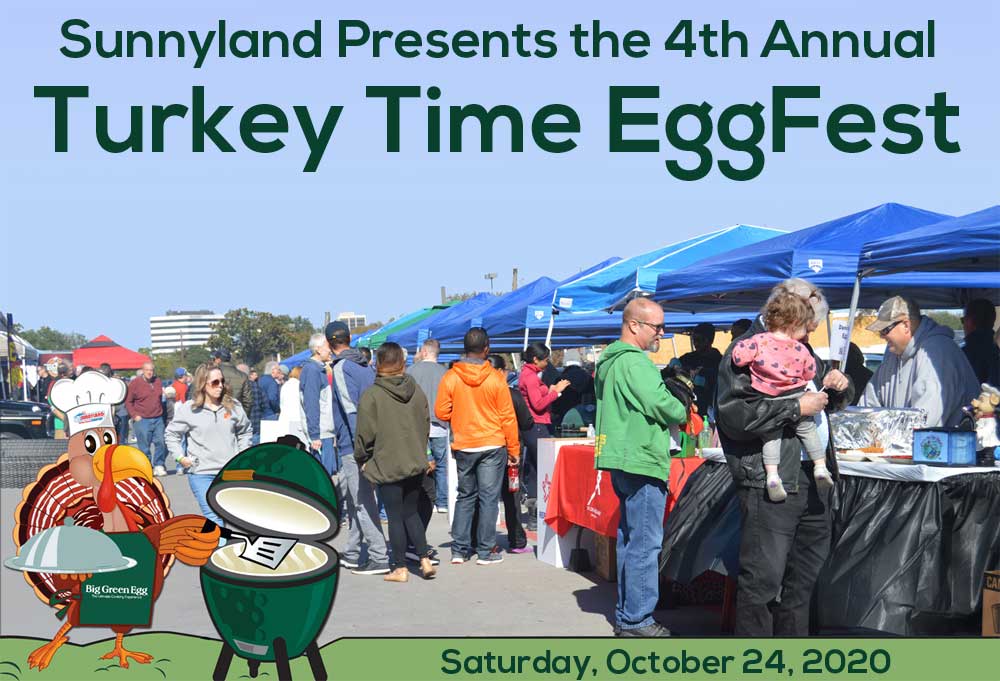 Sign up for EggFest updates including registration and demo egg sales by clicking here.
Sunnyland Outdoor Living is proud to present its 4th annual Turkey Time Virtual EggFest @Home this year. While we can't gather in person, we want to let our favorite Eggheads spread their love of the Big Green Egg with family, friends, and neighbors in the comfort of their own backyards.
This year, it's easier than ever for you to win great prizes just for doing what you already enjoy -- cooking on your Big Green Egg.
HOW IT WORKS
Teams will have a virtual private EggFest in their own backyard with their family, friends, and neighbors. You are welcome to host as few or as many people you feel comfortable being with while making sure to adhere to social distancing guidelines for personal private events in your backyard.
Events can be held any time on or before Saturday, October 24th. All events must be completed by 2 PM on Saturday, October 24th.
Each team will take photos and / or videos of what they cooked both as it is cooking, of the final product, and their guests enjoying the great food they have prepared. If you are not hosting your event on Saturday, October 24th, your photos need to be sent in no later than Friday, October 23rd. If you are hosting your event on Saturday, October 24th, your photos and videos need to be submitted no later than 2 PM (details on how to upload photos and videos will be sent to registered teams).
REGISTRATION / SUPPLIES
Registration is easy. Tell us your team name, what part of town you live in, and what you plan on cooking for your private EggFest and send it over to eggfestdallas@sunnylandfurniture.com
Once you have registered, you will be eligible to purchase our optional EggFest supply kit for just $49 which includes 1 20 LB bag of Big Green Egg Charcoal, 1 17.6 LB Bag of FOGO Super Premium Charcoal, a box of 24 Big Green Egg Fire Starters, and any SuckleBuster product of your choosing.
VOTING / PRIZES
Starting on October 24th, each team's photos and videos will be shared on the EggFest Dallas Facebook page. Voting will be done by likes and comments. Each like counts as one vote and each comment (limit 1 per user) counts at 2 votes. Voting will end at 8 AM on Wednesday, October 28th. Winners will be announced by noon on the 28th.
The top 3 vote getters win gift cards to Sunnyland to purchase any BGE or SuckleBusters products of their choosing. First place - $150, second place - $100. 4th place, 5th place, and honorable mentions will win FREE BGE and Sucklebusters product.
DEMO EGGS / EGGFEST SPECIALS
While we will not have actual demo eggs for sale this year, we will still offer our EggFest specials from Friday, October 23rd thru Sunday, October 25th at both of our Dallas and Frisco locations. We will offer our lowest prices of the year on new Big Green Egg packages as well as discounts on all Big Green Egg and SuckleBusters products.
Teams will have the option of offering these EggFest discounts and specials (including the team supply kits) to the guests of their events that will be honored from the time the team has their event thru the end of October.
We look forward this year to sharing your passion of cooking on the Big Green Egg to your personal network and look forward to inviting everyone on-site for our 5th annual Turkey Time Eggfest in November 2021.

FREQUENTLY ASKED QUESTIONS
PARTNERSHIP OPPORTUNITIES
2019 SPONSORS, VENDORS, & PARTNERS
Thanks to everyone who has made this event possible this year. We couldn't do this without all of our friends out there.
Sunnyland Furniture - Dallas / Fort Worth's Outdoor Casual Furniture Superstore | 7879 Spring Valley Road Dallas, TX 75254 |
972-239-3716
Copyright 1970-2020 &copy Sunnyland Outdoor Patio Furniture of Dallas Fort Worth - The Ultimate Casual Furniture Superstore for Texas