Hudson and Sunnyland's Schweig family named HFA Retailers of the Year
Hudson and Sunnyland's Schweig family named HFA Retailers of the Year
AFW's Jabs and Heathcoe of Contemporary Living earn new awards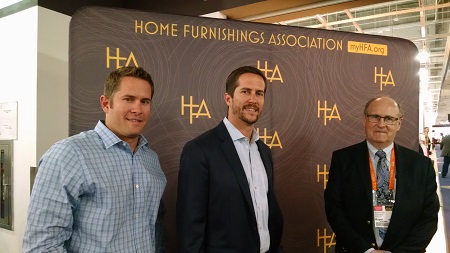 Adam Hudson, left, and Josh Hudson, Hudson's Furniture, Sanford, Fla., with HFA President Steve Kidder.
AT THE MARKET — Josh Hudson of Sanford, Fla.-based Hudson's Furniture and David and Brad Schweig of Sunnyland Outdoor Furniture in Dallas are the Home Furnishings Assn.'s Retailer of the Year honorees this year.
The awards recognize retailers who exhibit exceptional examples of philanthropy, technology, customer experience, mentoring, sustainability and store design and merchandising, HFA said.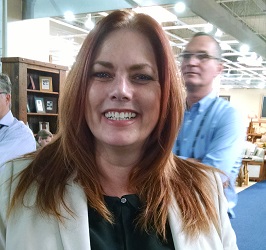 Cynthia Heathcoe
Also Cynthia Heathcoe of Contemporary Living in Palm Beach Gardens, Fla., won the new Emerging Star award by the HFA, and Jake Jabs, founder and Englewood, Colo.-based American Furniture Warehouse won the new Trailblazer award.
HFA President Steve Kidder announced the winners during opening day of the High Point Market. The more than 1,400-member retailer association announced the full slate of nominees in January and will present the awards June 5 at HFA's Home Furnishings Networking Conference in San Antonio.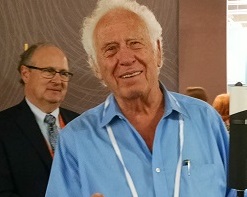 Jake Jabs
Hudson CEO Josh Hudson, won in the category of businesses with sales of more than $10 million. He's part of the family-owned Top 100 company founded in 1981 and operating 14 full-line stores and three outlets in central Florida, selling everything from promotional to high-end furniture.
"I have a genuine love for teaching others and a strong desire to build on my family business legacy," Hudson said in a statement. At the event Saturday, he told Furniture Today that he grew up looking up to the previous Retailer of the Year honorees. "Now winning this award is really really exciting."
Sunnyland Outdoor's David and Brad Schweig, father and son, were not at market when they were announced Retail of the Year winners in the category of businesses with annual sales of less than $10 million. The company is the first causal furniture retailer to win the honor, a 47-year-old retailer with the largest outdoor and patio causal furniture store in Texas, HFA said.
Sunnyland operates a 37,000-square-foot showroom, clearance center and on-site distribution center in Dallas, and HFA said David Schweig prides himself on working in an industry "whose primary purpose is to improve the quality of life of customers by providing them with comfort and relaxation."
Contemporary Living owner Heathcoe is HFA's first Emerging Star honoree, an award recognizing retailers "who've successfully jumped into the industry with both feet," and industry icon Jabs won the new Trailblazer award recognizing "those who've made a career of forging new roads," HFA said.
"Congratulations to David, Brad, Josh, Cynthia and Jake," HFA CEO Sharron Bradley said in a statement. "I think our winners this year accurately represent the variety and diversity of home furnishings retailers across the country; they're a true glimpse into what it takes to be successful in today's economy.
"Each of these HFA members strives to give their customers a remarkable shopping experience, work with the best employees, give back to their communities and be active, thoughtful members of their industry. We're happy to celebrate their accomplishments."
Sunnyland Furniture - Dallas / Fort Worth's Outdoor Casual Furniture Superstore | 7879 Spring Valley Road Dallas, TX 75254 |
972-239-3716
Copyright 1970-2023 &copy Sunnyland Outdoor Patio Furniture of Dallas Fort Worth - The Ultimate Casual Furniture Superstore for Texas