Sunnyland Wins Governors Small Business Award
Sunnyland Wins Governor's Small Business Award
Governor's small business award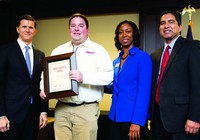 Carrollton Mayor Matthew Marchant; Brad Schweig, VP operations, Sunnyland Patio Furniture; Sonia Gaillard, Office of the Governor; and Andres Alcantar, chairman and commissioner of the Texas Workforce Commission.
Dallas
–
Sunnyland
patio furniture received the Small Business Award for Corporate Social Responsibility as chosen by the Governor's Small Business Forum. The award is presented by Governor Greg Abbott 's office to a company that has demonstrated a positive impact on society, contributing to the social or environmental wellbeing of the community.
"We are so excited to have been recognized for this Small Business Award," said Brad Schweig, VP of operations, Sunnyland. "Our Helping Hands committee has been involved in various things over the years within our neighborhood and the community, but we never expected to receive an award for our efforts."
The Helping Hands committee at Sunnyland has organized events such as food and toy drives in the winter, partnering with organizations like Carter BloodCare, the North Texas Food Bank and Collin County Humane Society. Sunnyland also accepts donations at its snack bar for Dallas Furniture Bank and Metrocrest Services for guests who enjoy the complimentary refreshments while they browse the store's 37,000-sq.-ft. outdoor living showroom.
In 2015, Sunnyland hosted fundraising and community events for several organizations, including the Richardson and North Dallas Coalition, ClassicalRush, Highway for Health and most recently the Dallas Kosher BBQ Championship benefiting Congregation Beth Torah and the Community Home for Adults.
Governor's Small Business Forums, sponsored by the Texas Governor's Office, the Texas Workforce Commission and local partners, are designed to give entrepreneurs and small businesses valuable tools, skills and knowledge needed to thrive in today's fast-paced economy.
"Small businesses are crucial to our state's economy and play an important role in the future of Texas," said First Lady Cecilia Abbott , who presented the honor.
Sunnyland Furniture - Dallas / Fort Worth's Outdoor Casual Furniture Superstore | 7879 Spring Valley Road Dallas, TX 75254 |
972-239-3716
Copyright 1970-2023 &copy Sunnyland Outdoor Patio Furniture of Dallas Fort Worth - The Ultimate Casual Furniture Superstore for Texas