Sunnylands Nathaniel Booker Jr. passes away
Booker worked with outdoor furniture retailer since 1983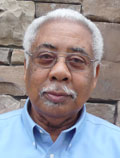 Nathaniel Booker Jr.
DALLAS - Nathaniel Booker Jr. of Dallas, a longtime team member at
Sunnyland Furniture
, passed away on Thursday, May 8. He was 73 years old.
Booker was hired at Sunnyland by Aaron Klausner to work in the warehouse in 1983. According to a company statement, "Klausner felt that Nat was a man of good character, so, as legend goes, he gave him a key a few hours after hiring him and went home for the day, leaving Nat to lock up the store for the night."
Over the years, Booker started working part time on the sales floor, and eventually moved up to a full-time outdoor living consultant at
Sunnyland
.
Funeral services for Booker were held May 16 in the Brooks Family Chapel of the North Dallas Funeral Home, followed by burial at DFW National Cemetery. Sunnyland hosted a celebration of his life after the burial.
Condolences may be shared on Sunnyland's Facebook page or Booker's North Dallas Funeral Home obituary page.
Click here to view Sunnyland's video tribute to Booker
Sunnyland Furniture - Dallas / Fort Worth's Outdoor Casual Furniture Superstore | 7879 Spring Valley Road Dallas, TX 75254 |
972-239-3716
Copyright 1970-2023 &copy Sunnyland Outdoor Patio Furniture of Dallas Fort Worth - The Ultimate Casual Furniture Superstore for Texas