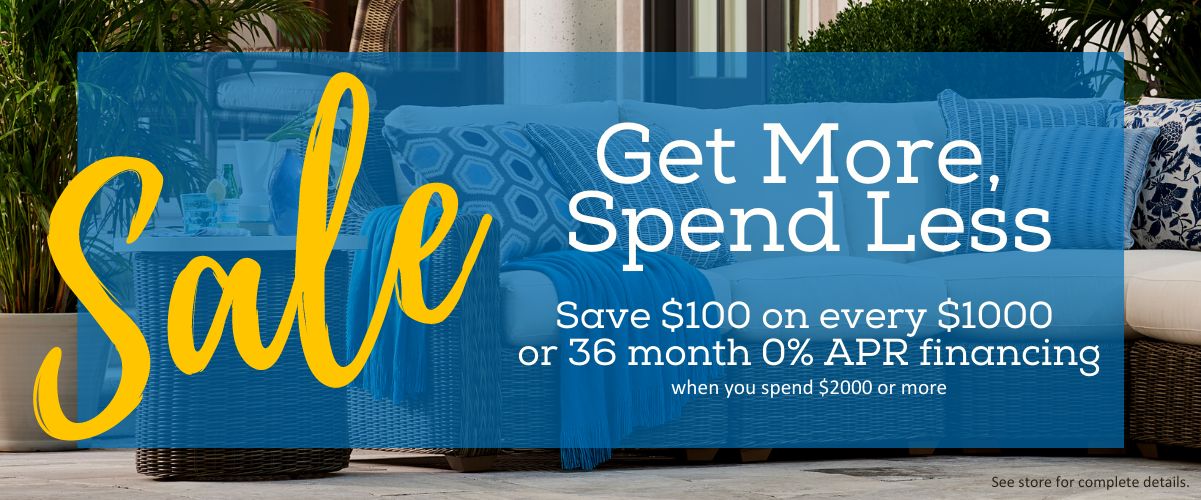 Sunnyland Outdoor Living is celebrating summer with great deals on quality outdoor furniture.
You'll get more and spend less with your choice of additional discounts or 36 month 0% APR financing. Choose from i outdoor sofas, swivel chairs, sectionals, dining sets, mosaic tables, umbrellas and more.
Don't wait for months - relax on the patio today with our quick white-glove delivery service at Sunnyland, your local store for outdoor.
Online Discount Codes:
For purchases of $2000-2999 use code: GETMORE200
For purchases of $3000-$3999 use code: GETMORE300
For purchases of $4000-$4999 use code: GETMORE400
For purchases of $5000 or more use code: GETMORE500
Learn more about financing here.
Sale ends 7/4/2022. Must spend at least $2000 before tax and shipping/delivery fee to recieve a discount. No other discounts apply. Not valid on previous orders or custom orders. Must schedule delivery at time of sale and must take delivery within 7 days of purchase.
Sunnyland Furniture - Dallas / Fort Worth's Outdoor Casual Furniture Superstore | 7879 Spring Valley Road Dallas, TX 75254 |
972-239-3716
Copyright 1970-2022 &copy Sunnyland Outdoor Patio Furniture of Dallas Fort Worth - The Ultimate Casual Furniture Superstore for Texas