Accessorizing Your Outdoor Living Space
Posted On: 03-01-2016
By: Teresa Scott, Outdoor Living Consultant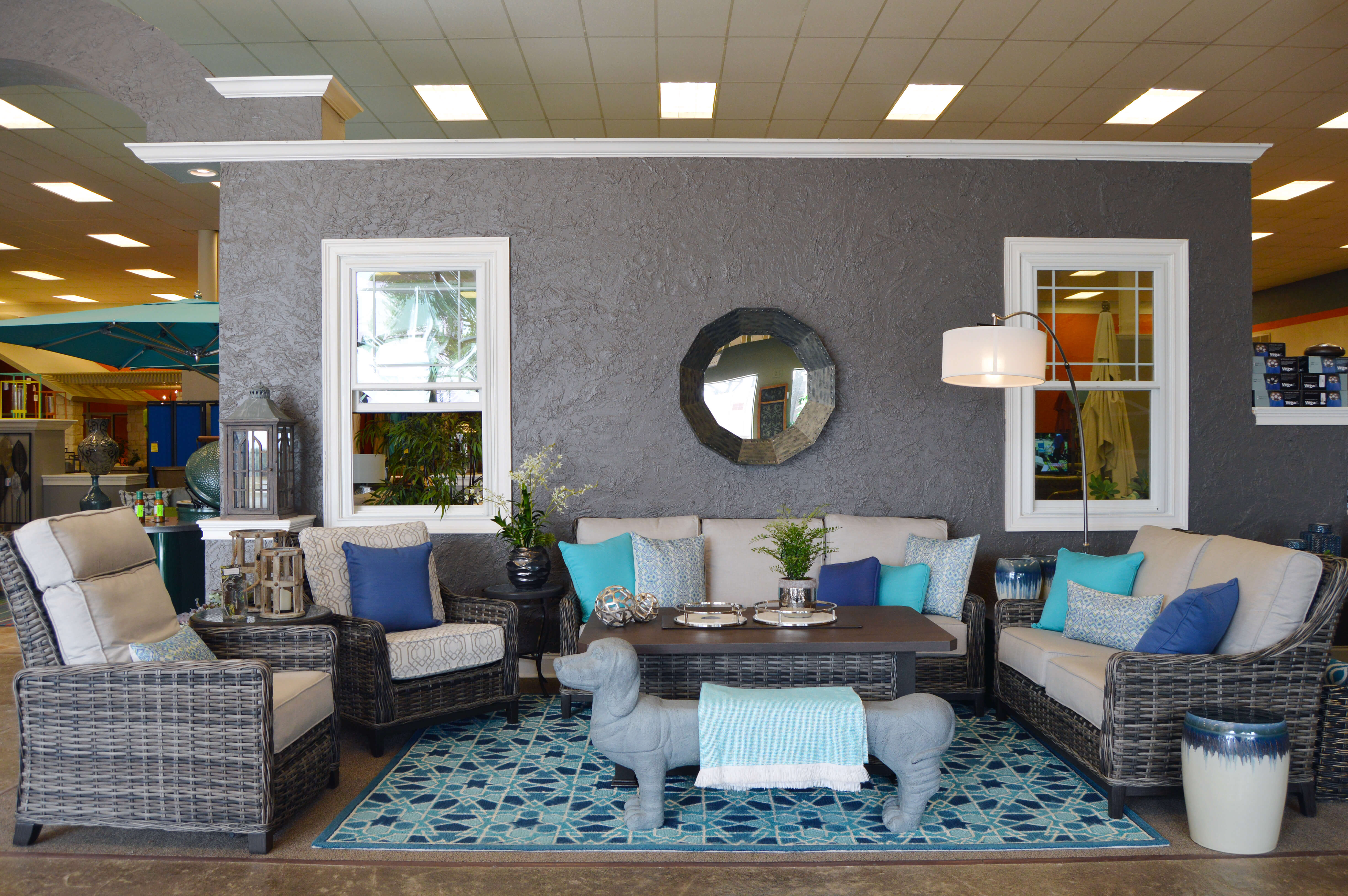 Our new accessories are arriving each day, and while they all are designed to beautify your outdoor living areas, it is sometimes unclear which ones are more durable for outside in the harsh elements. I am listing the most popular items in the store, along with the recommended way of using them in your space.
Lighting – All of the floor and table lamps are powder coated, like our wrought iron and aluminum furniture. The electrical connections are sealed, giving you the freedom of placing them in direct rain. The shades are made of solution dyed sunbrella fabrics to prevent fading. Some of the lamps are equipped with cordless LED lighting and have Solar or Plug-in rechargeable batteries.
Clocks – our clocks are designed to be hung on an exposed exterior wall. The newest generation has Seiko mechanisms, and they have been our most reliable clocks to date.
Rugs – Most of the outdoor rugs are made of Polypropylene or polyacrylic, both with UV stabilizers to minimize fading, and are naturally insect and mildew resistant. We have the flatter machine made rugs that are the best for uncovered areas, and the hand tufted cut pile or looped rugs, which are thicker, and better for covered areas. These have a rubberized backing and can get wet, but take longer to dry.
Art – The outdoor art is Giclee' on Canvas. They are actually Sharp vibrant photographs digitally reproduced and printed on artist canvas, and then coated with UV and Waterproof lacquer that prevents fading for years to come. Stretched and gallery wrapped on 1 ½ all weather stretcher bars, they can be placed in any outdoor location with direct exposure to the elements.
Pillows – All of our pillows are made with Solution dyed fabrics and fringes, with outdoor fill. You can leave them out in the direct weather and if they get wet, just like our outdoor cushions, you just let them dry in the sun.
Throws – Just like the pillows and our outdoor cushions, the outdoor throws are made with Solution dyed Sunbrella threads with a chenille type feel. I order them to coordinate with our furniture collections. The best advantage to these is that they can be machine washed.
Flameless candles – our flameless candles are made specifically to be used outdoors. They are made of Resin and not wax, but have a very natural look. This keeps them from melting in the sun. The best thing about them is that they are battery operated and are on timers, 5 hours on, 19 hours off. Some even come in their own tabletop or hanging lanterns.
Along with the accessories specifically made to go outdoors, we have many that were designed to use indoors, but would be fine to use in covered areas.
Wall hangings – we have many Iron wall hangings and wall mounted candle holders. Most are not powder coated and will rust if exposed to the direct weather. It is recommended to spray the items with a clear coat of polyurethane once a year. Some people don't mind the look of rust, and actually prefer it in a rustic setting.
Candle holders – Most of our tabletop and floor standing candle holders are not powder coated either and would require the same kind of care. I try and purchase only those that include a glass hurricane to help protect the candle flame from wind.
Ceramics – This category would include hose holders, beverage coolers, pots, decorative urns, and plates on stands. Some of these are made specifically for outdoors, and some are not, but due to the nature of ceramics, the weather will not usually affect these. I have heard of some of the decorative urns peeling after direct sun exposure, but in covered areas, it should not be a problem.
Greenery – Our greenery is predominately made for indoors. There are only a few trees that have the UV stabilizers to keep them from changing color from sun exposure.
Sunnyland Furniture - Dallas / Fort Worth's Outdoor Casual Furniture Superstore | 7879 Spring Valley Road Dallas, TX 75254 |
972-239-3716
Copyright 1970-2023 &copy Sunnyland Outdoor Patio Furniture of Dallas Fort Worth - The Ultimate Casual Furniture Superstore for Texas