Outdoor Lifestyle
Posted On: 10-23-2018
By: Deborah Holt
A fire pit creates the perfect outdoor ambiance with its inviting warmth and mood enhancing glow, but did you know that fire pits are also a great centerpiece for fun outdoor activities? From making tasty treats to telling campfire stories, fire pits enhance your outdoor enjoyment.
Posted On: 05-02-2018
By: Deborah Holt
Give your mom the gift of outdoor relaxation for years to come with outdoor furniture and accessories from Sunnyland Patio Furniture.
Discover great gifts from mosaic tables to in-pool loungers that are the perfect addition to outdoor spaces. Looking for something more? Give mom a stylish outdoor dining or seating collection.
Posted On: 11-13-2017
Get warm and cozy on the patio this fall while sipping on hot chocolate or mulled wine. Find recipes to enjoy by the fire pit.
Posted On: 10-07-2017
By: Deborah Holt
The weather may be cooling, but things are heating up on the patio. It's officially fire pit season. There's no better way to spend fall evenings than nestling around a fire pit with friends and family. With versatility, unique design and quality craftsmanship fire pits can transform your outdoor space into an inviting gathering place.
Posted On: 05-20-2017
By: Deborah Holt
Your patio should reflect your personal style. Don't settle for a bargain deal at the big box retailer that isn't in the color or style you want. Instead, choose the style, fabric and finish that reflects your style. At Sunnyland Patio Furniture, you can find the largest selection of outdoor furniture all at one location. Sunnyland also carries all the little things you need to complete your patio look. From wall decor and accent pieces to rugs and pillows, you'll never need to shop anywhere else for your outdoor patio needs. Stop by Sunnyland today and experience the Sunnyland difference. Open seven days a week for your convenience.
Posted On: 05-06-2017
By: Deborah Holt
Don't eat another meal indoors when you can spend time with your family out on the patio. Sunnyland Patio Furniture explores the latest trends for the patio with outdoor dining. From large gatherings to intimate dinners, you can find the perfect furniture for your outdoor space at Sunnyland.
Posted On: 04-29-2017
By: Deborah Holt
Don't know what to get mom this Mother's Day. No worries. Sunnyland Patio Furniture has a great selection of outdoor furniture, accessories and rugs that will fit her style and will last for years to come. Take a look at our Mother's Day Gift Buying Guide for a great selection of gifts.
Posted On: 04-21-2017
By: Deborah Holt
Move over nuetrals, blue is making a splash on the patio. Find out how you can incorporate this years trending color onto the patio with rugs, pillows, cushions and accessories from Sunnyland. Transform your outdoor space with the pop of color that provides calmness and serenity to your space.
Posted On: 11-01-2016
By: Brent Glaze, Outdoor Living Consultant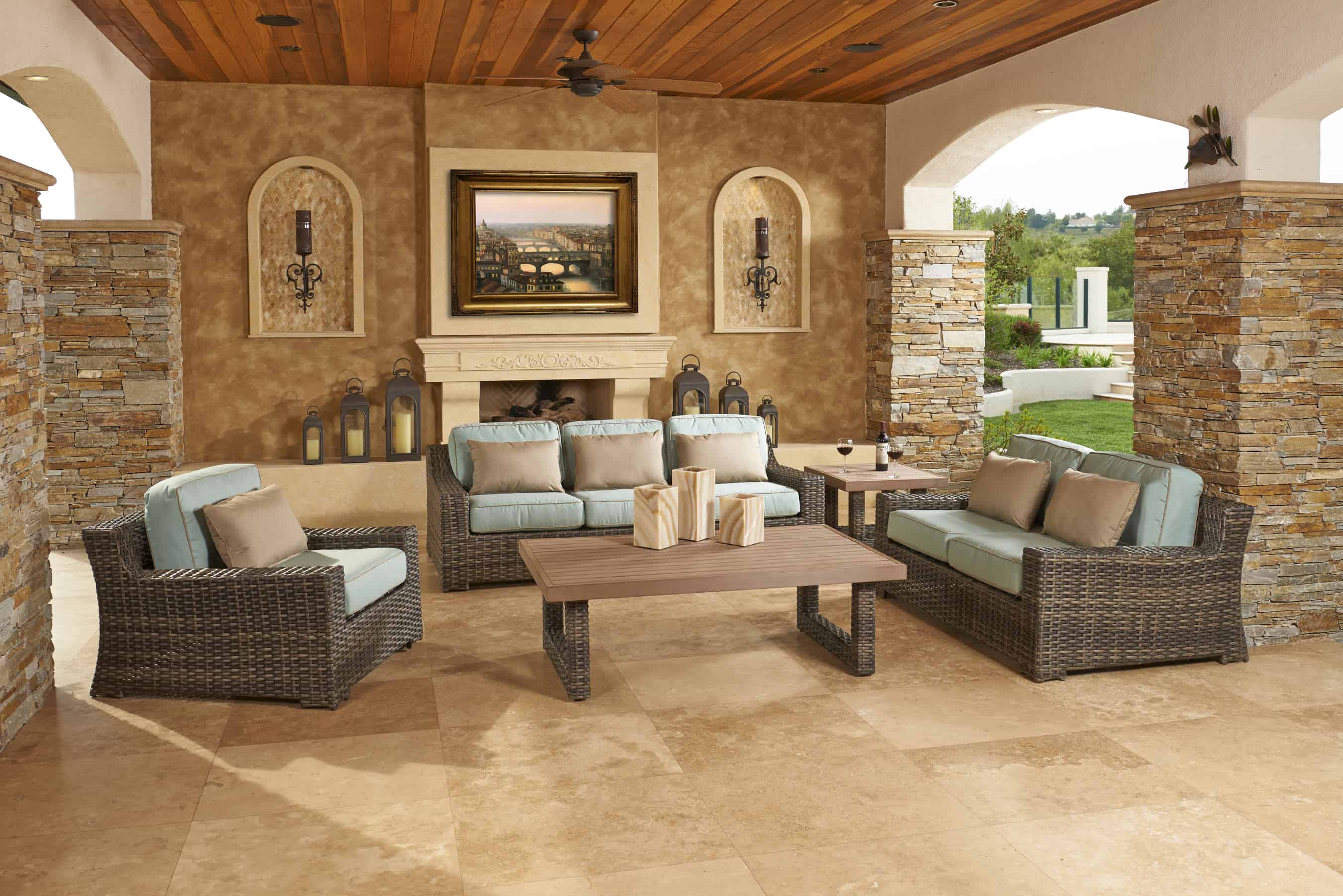 The outdoor space is being used more and more as additional living space for your home. These days, people are remodeling their outdoor space as they remodel their indoor space. Being in the outdoor furniture business for several years, I have seen some magnificent spaces added to homes, especially, in some of the northern suburbs like McKinney, Frisco and Allen. People are considering all types of additions. It's not just a pool or hot tub, more and more people are adding an outdoor kitchen along with space to relax around a fireplace, watch television or have cocktails around a fountain instalation.
Posted On: 02-01-2016
By: John Hudik, Outdoor Living Consultant
Born in Ohio, but having lived in Fort Lauderdale for the last 40 years, it was a pleasure to rediscover a seasonal climate with year-round, moderate temperatures right here in Texas. A climate that highlighted the change of seasons, yet was moderate enough to permit the use of patios and outdoor spaces any month of the year!
For me, this meant that my lifestyle of cooking and eating most meals outdoors would not have to drastically change. Only the nastiest weather of snow, ice and freezing temps would keep me inside. If I had only designed my outdoor space to include a few things not often seen in Texas!
Sunnyland Furniture - Dallas / Fort Worth's Outdoor Casual Furniture Superstore | 7879 Spring Valley Road Dallas, TX 75254 | 972-239-3716
Copyright 1970-2019 &copy Sunnyland Outdoor Patio Furniture of Dallas Fort Worth - The Ultimate Casual Furniture Superstore for Texas