Maximize Your Outdoor Furniture Shopping Experience
Posted On: 08-28-2020
By: Deborah Holt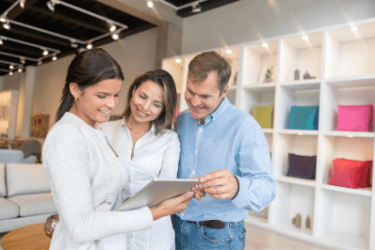 Now that you're ready to furnish your outdoor space, here's an informative guide to help you prepare for your outdoor furniture shopping experience.
Before you go to the store, plan ahead to maximize your shopping experience with these 5 helpful steps.
1. Measure
Start by measuring your outdoor space. This will help your outdoor design consultant know what outdoor configurations will fit best in your outdoor space.
2. Take pictures
Take pictures of the outdoor space you're furnishing, especially if you're purchasing for multiple spaces and need several arrangements. (I.e. pergola, pool deck, dining area, covered patio, open space, sun room)
Having images also helps your design consultant when guiding you with the types of furniture that are best for full sun, shade, near a pool or for an outdoor kitchen area.
3. Pick your color scheme & theme
Have an idea of what color scheme you'd like. Do you prefer neutrals like brown or grey or do you like bold colors and patterns. Also, consider if you'd like your outdoor furniture to blend with your indoor style or if you want a different theme.
4. Familiarize yourself with outdoor materials
Patio furniture is composed of several types of materials, including: woven, wicker, natural wood (teak, IPE) casual aluminum, wrought iron, cast aluminum, upholstery, recycled polymer, cushions and slings.
Always look for outdoor performance fabrics when considering patio furniture with fabric. Sunbrella is one of the industry's leading outdoor fabrics. It is composed of solution dyed acrylic for longevity and can be easily cleaned and maintained.
It is also very important to consider the environment you're placing your outdoor furniture in. Squirrels can wreak havoc on outdoor cushions. Having a yard with high winds can break an umbrella if not stored properly and turbulent weather can destroy your patio furniture.
Weather and critter related damages are not covered by warranty. Take into consideration all of the elements of your outdoor environment to choose your patio furniture wisely. Patio furniture covers and outdoor storage bins can also help maintain your patio furniture.
Your outdoor design consultant can educate you further on outdoor materials and help you decide which works best for you and your space.
5. What styles do you prefer
Just like indoor furniture, outdoor furniture comes in many styles. Let your outdoor consultant know which styles you like, but also be open-minded, you might find something you love that's not usually your style.
Now you're ready to shop.
When at the store, here is a list of questions to ask your outdoor design consultant to make sure you're getting the right patio furniture for your outdoor space.
1. What are the dimensions of the furniture?
2. What material is the frame made of?
3. What are the cushions composed of (reticulated foam, quick dry foam, Polyurethane foam)?
4. What are the pros and cons of the cushion material?
5. Is the fabric Sunbrella?
6. Can this item be customized with finishes and fabrics?
7. What is the lifespan of this furniture?
8. How long will the cushions and slings last?
9. What is the return policy?
10. Request tearsheets and catalogs for the collections you're considering.
Get warranty info (this varies by manufacturer) on frames, finishes, fabric, slings, defects, swivel plates, glides, and any component that is part of the furniture's build.
Don't forget to sit, lounge and test out your patio furniture. It needs to pass both the quality and the comfort test.
Sunnyland Furniture - Dallas / Fort Worth's Outdoor Casual Furniture Superstore | 7879 Spring Valley Road Dallas, TX 75254 |
972-239-3716
Copyright 1970-2023 &copy Sunnyland Outdoor Patio Furniture of Dallas Fort Worth - The Ultimate Casual Furniture Superstore for Texas