Do You Have a Salt Water Pool? If so, READ THIS POST!!!
Posted On: 01-01-2016
By: Brad Schweig, VP Operations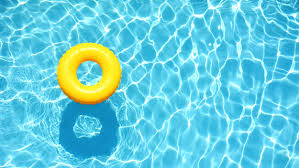 More and more people are installing salt water pools in their backyard or they are converting their chlorine pool over to salt water. Many people say that salt water pools feel softer than traditionally chlorinated pools and are easier to maintain. This may be true, but they can cause additional wear and tear on your outdoor furniture and this may not be covered by the manufacturer's warranty.
For those of you not familiar with the mechanics of a salt-water pool; here is a little bit of education. The builder installs an electrical device called a chlorine generator by the filter equipment. Salt is added to the water. Then, the generator converts the salt into its two basic components, sodium and chlorine. From there, the chlorine keeps the pool bacteria free just as if pool had a more traditional chlorinator installed. In most cases, salt is added directly to the pool which turns the entire pool into a salt-water pool. However, there are some systems where the salt is added to a small reservoir attached to the chlorine generator. The pool water is circulated through the reservoir and immediately goes into the converter. This process puts less salt in the pool.
Outdoor furniture manufacturers are becoming aware that problems can occur around a salt-water pool. Many of them are changing their paint finishes to handle the wear and tear of the salty air around the pool. However, for those who have had their furniture for a few years, there are a few easy steps you can take to ensure that your furniture stays in like-new condition.
1. Wash off your patio furniture at least once a month to rinse away the salty residue that can collect on your paint. Even if your furniture is not right next to the pool, the salt can still accumulate on the frames and build up. Eventually, this can eat away at the paint or the frame itself.
2. Do not place your outdoor furniture right next to the pool. Water can splash out from the pool causing more salt to collect on the frames. If you do have furniture close to the pool, it is important to make sure you rinse it off regularly.
These tips are especially important with cast aluminum, which tends to have more finish issues with salt water pools, and any type of iron furniture, which can easily rust near the salty air. By following these easy steps, you can ensure that your outdoor furniture will last you for many years.
Sunnyland Furniture - Dallas / Fort Worth's Outdoor Casual Furniture Superstore | 7879 Spring Valley Road Dallas, TX 75254 |
972-239-3716
Copyright 1970-2020 &copy Sunnyland Outdoor Patio Furniture of Dallas Fort Worth - The Ultimate Casual Furniture Superstore for Texas