Sunbrella - Design, Excitement and Performance at its Best
Posted On: 06-01-2016
By: John Hudik, Outdoor Living Consultant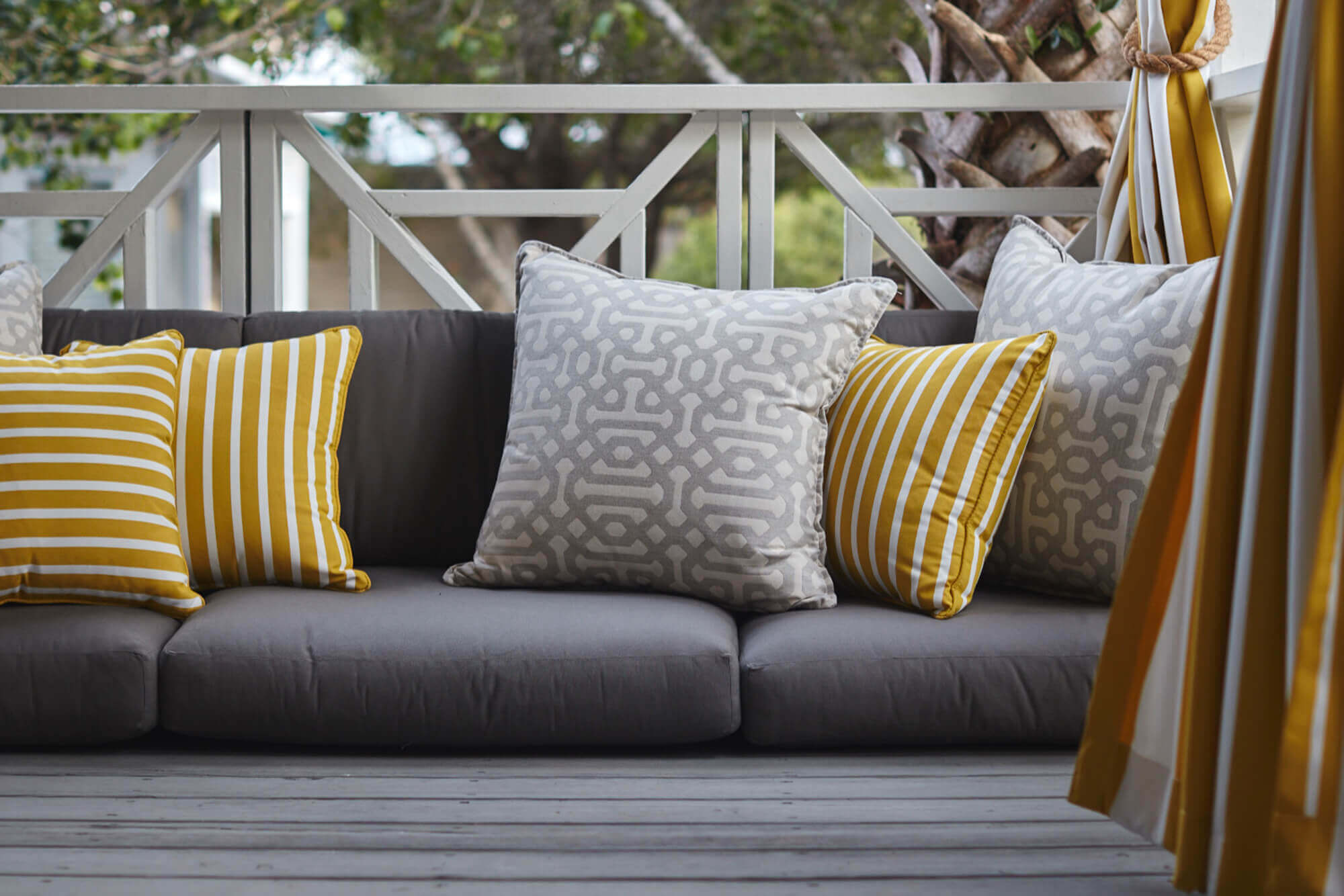 If you could imagine the perfect outdoor or indoor fabric, you would likely want exciting colors and patterns with lots of coordinating fabrics, a soft comfortable feel, fade resistance and above all, superior stain resistance and cleanability. All of this, and more, defines Sunbrella fabrics.
Through my 42 year journey in the furniture industry, I have seen many performance fabrics that promise to "change the world we live in". We've had the synthetics like nylon, rayon, acrilan, Olefin and Herculon fabrics, and blends of all of those and more. They all offered improvement over the status quo at that time, and all performed comparatively well, but none provide color fastness or fade resistance. Only heavy cotton canvas offered some UV protection, but that was limited and had no significant stain resistance and could be a challenge to clean.
The parent of Sunbrella, Glen Raven, is no new comer to performance fabrics. Established in 1880 as a North Carolina cotton mill, and still owned by the original family, Glen Raven was one of the first companies to adopt synthetic fibers and built one of the first knitting operations in the South. They were a leader in women's hosiery and the development of panty hose and through World War II they manufactured parachute fabric including heavy weight parachute cloth for airlifting heavy equipment and armament.
The extensive use of nylons, rayons and polyesters led them into the luggage and sail cloth business and they were the premier manufacturer of cotton- duck cloth awnings. They eventually would provide the marine industry with awnings, sailcloth and later upholstery. In 1960 Glen Raven introduced its Sunbrella line of performance fabrics which effectively made their very profitable cotton awning business all but obsolete. But… the Sunbrella fabrics were so revolutionary with superior fade resistance, durability and clean ability, that the awning industry all but forgot about cotton duck fabrics! Today, Sunbrella is the premier global supplier of performance fabrics for the awning industry, marine sailcloth, upholstery and awnings, the furniture industry, as well as major supplier of convertible tops to the auto industry.
Now, with over 100 years of history in textile innovation, just what does it mean for me and you? Simply…today we can design and furnish our exterior spaces as elegantly as our interior spaces, with any color, or lack of color, and have a worry-free living space that is almost mother nature's equal….weather resistant, fade resistant and for all intents and purpose, stain proof! You heard that right! Nearly any imaginable household food or product can be cleaned off even off the lightest fabrics with simply light detergent, water and a soft bristled brush. Even ignored stains like last week's wine or BBQ sauce will clean up nicely. Most any stain proving difficult is whisked away with the addition of a cup or two of bleach!!! Yep…bleach…even 100% chlorine bleach has NO EFFECT ON the color of EVEN THE BRIGHTEST OF COLORS!
You ask…how can this be? Sunbrella fabrics are solution dyed fabrics, meaning the good stuff, like color and fade resistance, is an integral part of the fiber. Let me try and simply explain: synthetic fabrics are all chemicals that are basically spun into fibers, the fibers into strands and the strands woven into fabric. Now….going back to the first step when the chemicals are formulated, Sunbrella also adds color pigment, UV resistors, stain resistors, etc., and then they are spun into the fiber. So the color, durability, fade and stain resistance, etc., are all built into the fiber…in fact they are the essence of the fiber, and those fibers are then woven into the wonderful Sunbrella fabrics. All of the good stuff is inside and part of, not topically applied or printed on like many others! And this is why bleach does not penetrate to affect the color or performance.
The success of Sunbrella fabrics, awnings, outdoor furniture, marine furniture, as well as the auto convertible industries has led to a most logical decision. Sunbrella asked themselves "why not bring these revolutionary fabrics indoors!" Research concluded that consumers and upholstery manufacturers alike saw tremendous value in bringing the beautiful and serviceable Sunbrella fabrics to the world's living and family rooms. Again, I spent forty years in South Florida furniture retail and well know that sun fading as well as basic stain resistance and cleaning are extremely important factors with indoor upholstery. Sun fade with window treatments is a huge problem….why not use Sunbrella fabrics and/or sheers there?
So….with excitement from both consumers and furniture dealers alike, Sunbrella has just introduced a performance collection of Sunbrella fabrics designed for interior use! They are soft and comfortable with sophisticated choices and vibrant color options, and of course, offer a combination of UV protection, durability, color fastness, clean ability and stain resistance like no other. Now you can carry a theme or design concept from inside your home to your exterior living spaces, making for the perfect upholstery solution for any living space…inside and/or out!
Sunbrella…the Global leader with over 100 years of innovation with performance fabrics. Clearly my choice for my next home AND next design job!
Sunnyland Furniture - Dallas / Fort Worth's Outdoor Casual Furniture Superstore | 7879 Spring Valley Road Dallas, TX 75254 |
972-239-3716
Copyright 1970-2023 &copy Sunnyland Outdoor Patio Furniture of Dallas Fort Worth - The Ultimate Casual Furniture Superstore for Texas