Ten Reasons to Choose Seaside Casual Furniture
Posted On: 08-28-2019
By: Seaside Casual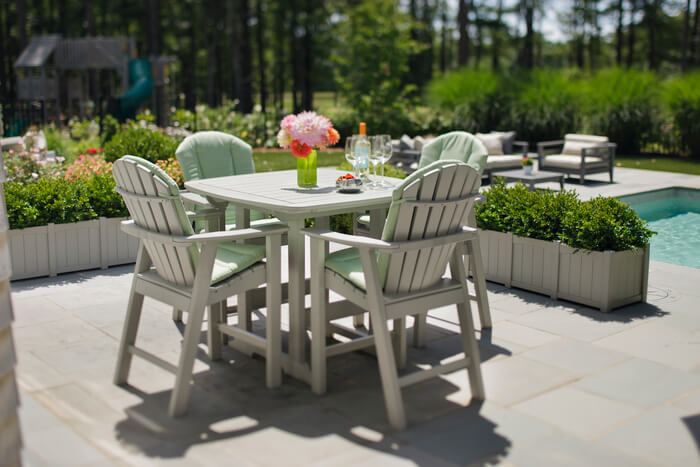 10 Reasons to Choose Seaside Casual Furniture
1. Made in the USA
Seaside began making furniture at its Rhode Island lumberyard in 1996. It started as a hobby with just one Adirondack chair. With the encouragement of its local community, Seaside began making and selling more chairs. That single design has now grown into a collection of over 50 products.
2. Envirowood
In 1999 Seaside introduced Envirowood – a 100% High Density Polyethylene (HDPE) lumber. Made from recycled plastic bottles and containers, Envirowood is permeated with UV stabilized pigments that are consistent throughout the entire piece. The result is a smoother and more durable finish that prevents chalking and resists fading of the surface.
3. Indoor Comfort
Seaside's lumber is milled and routered to simulate the look and feel often found in traditional wood furniture. Joints are secured using mortise and tenon joinery and edges and corners are milled on precise CNC machinery. In short, it produce our outdoor collection at specifications usually applied to interior furniture.
4. Stainless Fasteners
All stainless steel fasteners are not created equal. Low grade stainless or painted components can easily corrode in harsh coastal environments. Seaside uses marine grade stainless steel (316) to ensure superior protection when exposed to the elements.
5. Solid as a Rock
Unlike sheet molded products, Seaside frames are constructed with HDPE lumber components that are designed to withstand temperature and load changes. Structural aluminum is used to reinforce critical frame members in key locations. The result is a product that will not tip, topple, or turn over on your patio, deck, or lawn.

6. Slats and Spaces
Appropriately spaced slats are the difference between support and the feeling of "falling through" the seat or back of your chair. Seaside has this perfected so you feel comforted and secure.
7. It Only Has a Good Side
All of Seaside's products are completely finished on all surfaces. This means all backs and seats are slatted and supported so that they look and feel great even when cushions are not in use. Compare our finish to others and you'll see that our way is the best way.
8. Custom Upholstery
Seaside offers a wide selection of custom fitted cushions made from Sunbrella and Outdura fabrics. These premium fabrics repel water, are stain resistant, and resist fading, even in the brightest of sun so your furniture will look great on day one and day one thousand.
9. Take it for a Test Drive
Seaside tests the ergonomics of its products constantly throughout the design phase and its belief its customers should have the opportunity to do the same when making a purchase. Because of this belief, Seaside forges relationships with retailers who offer brick and mortar showrooms. These relationships ensure the expertise that we expect and the service customers appreciate.
10. Peace of Mind
Seaside products are backed with a 20 year warranty that offer the support and commitment of a family-owned company with over 100 years in the making. Seaside stands by its products with confidence so you know you can enjoy their quality for years to come.
Sunnyland Furniture - Dallas / Fort Worth's Outdoor Casual Furniture Superstore | 7879 Spring Valley Road Dallas, TX 75254 |
972-239-3716
Copyright 1970-2021 &copy Sunnyland Outdoor Patio Furniture of Dallas Fort Worth - The Ultimate Casual Furniture Superstore for Texas