The Customer Experience
Posted On: 06-01-2017
By: Deborah Holt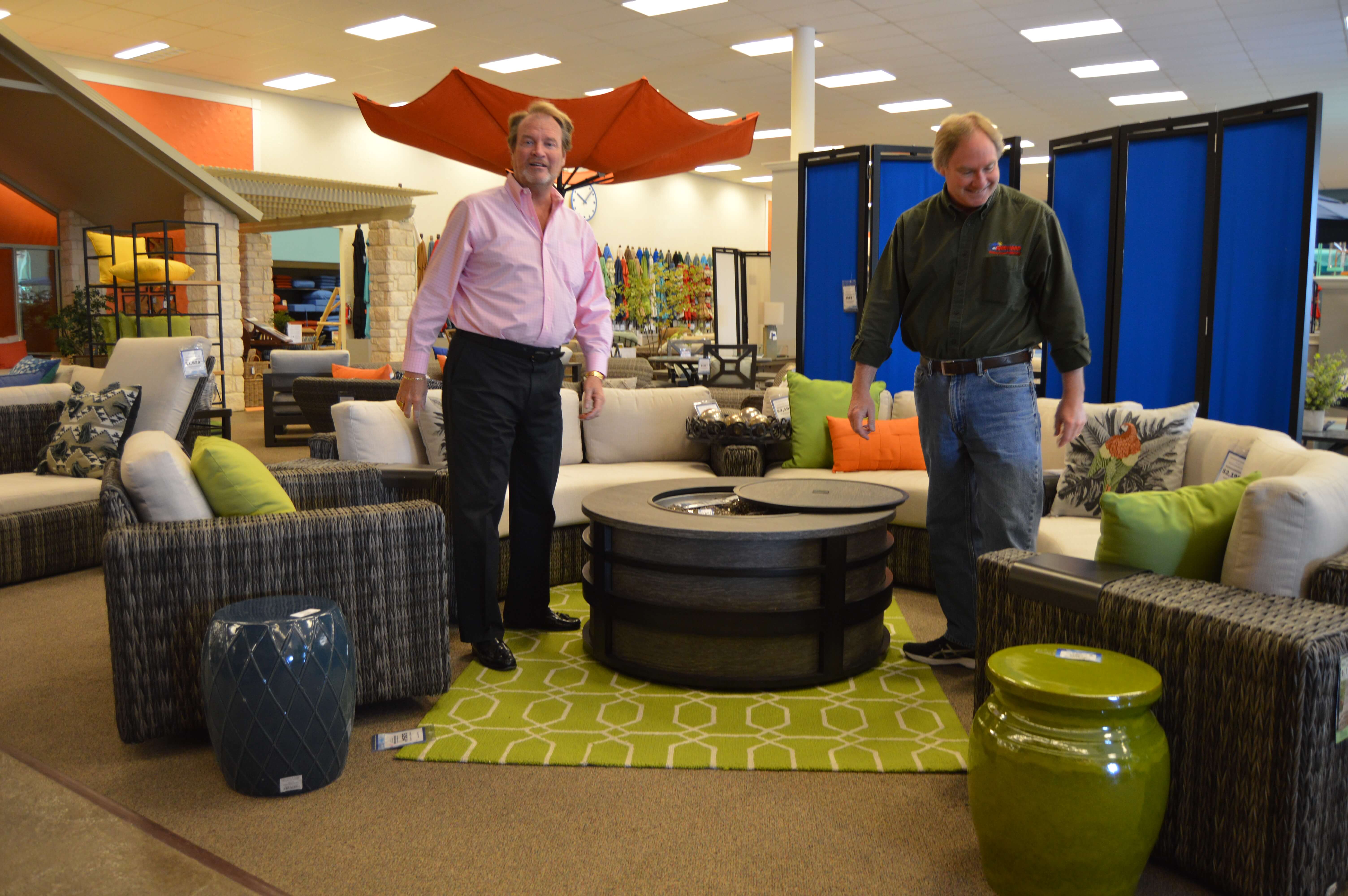 Sunnyland Patio Furniture's commitment to its customers goes beyond the sale. Every piece of communication and every employee customers come in contact with reflects Sunnyland's commitment to exceeding expectations and offering the best experience possible.
David Schweig, owner of Sunnyland, is at Sunnyland every day, rain or shine. He leads by example; his sunny disposition attributes to positive employee morale and an optimistic and conducive work environment.
As a small business for the last 47 years, Sunnyland provides a personable experience for customers throughout the buying and delivery process. The knowledgeable sales staff, the well-trained, friendly delivery drivers and the helpful office staff, are what Sunnyland is known for, and this is because of Sunnyland's low turnover rate. The employee's commitment to the company translates into a commitment to the customer experience.
Sunnyland's Buyer, Nick Nickell has been with the company for over 30 years and has been responsible for every aspect of the sales department. Don Williams and Marilyn Peterson have been with the company for over 20 years and ten other employees have been with the company for ten plus years, demonstrating the loyalty and dedication Sunnyland's employees have to the company.
It All Adds Up
Sunnyland has one of the biggest showrooms in the country. Customers can find a large selection of patio furniture with new inventory added seasonally to provide the latest trends and the traditional classics. Sunnyland's on-site warehouse also provides convenience and ensures readily available product.
Sunnyland offers a 365 delivery service. Customers only pay a delivery fee once per year, no matter how many trips are made to their home, even if their home is miles away. The delivery drivers take pictures at every home setup to ensure proper delivery. The drivers are known for their extreme friendliness, their in-depth knowledge, their positive attitude and of course, their super-human strength.
The sales team at Sunnyland has a wealth of patio furniture knowledge. There is also a no-pressure sales environment. Sunnyland believes in honest pricing without the gimmicks. There is low employee turnover, meaning if a customer returns 3 years later to purchase additional furniture, their original sales person is there to continue the conversation.
There is an on-staff design consultant to help customers design and plan the perfect space, even if that means traveling to the customer's home. After every purchase, team members offer customers a bottle of wine as a congratulations on their purchase and then follow-up is made with a handwritten thank you card a week later.
Sunnyland only sells the highest quality products. Quality is of the utmost importance at Sunnyland; offering only the finest outdoor furniture from reputable manufacturers and showcasing only Sunbrella fabrics ensuring products withstand the elements and the test of time. If a customer has an issue with a product, the office staff is the liaison to make sure everything is properly fixed in a timely manner. Sunnyland is also one of the few places in Dallas where customers can come for umbrella repair and re-slings.
Going Above and Beyond
Where there's a will there's a way, and at Sunnyland there's always a will. Going above and beyond for Sunnyland is about not only doing what the competitors won't, but more importantly, doing what's best for the customer. At Sunnyland, the employees are empowered to make customer relations decisions without delaying the process and waiting on managerial support. Sunnyland wants to exceed customer expectations at every level of their experience.
Recently, a customer visited Sunnyland to purchase new patio furniture after their home was devastatingly destroyed in a fire. After consulting with our sales team, a purchase decision was made and the order was placed.
When the customer's furniture arrived in the store and was prepared for delivery, the customer realized the construction wasn't far enough along on their home to have the patio furniture delivered. The customer asked if the furniture could be held until the completion of the rebuild. With its large, on-site warehouse, Sunnyland was more than capable of holding the customer's furniture. Two years later, when the customer's home was complete, Sunnyland delivered and setup the patio furniture at the customer's home.
Sunnyland's design consultant, Teresa Scott has traveled the country to meet with clients at their homes. She has even flown with large fabric sample books to help clients pick out the perfect fabrics. On short deadlines, she and the Sunnyland team delivered pillows to a helicopter. For a customer, the team flew to Colorado to ensure proper install and setup at their vacation home. The team also arranged international shipping for a customer with a second home overseas.
On a regular basis, Teresa meets with interior designers. Her years working in the industry has made her a sought-after consultant for many designers because she has the patience and designer eye to know when something needs to be moved a little to the left.
There's no building too tall, no sidewalk too steep, no entry way too small to keep Sunnyland's delivery team from completing a setup. Their dedication and commitment to customer service can be seen on every delivery they make.
Darrel Griffin, one of Sunnyland's beloved deliver drivers of over thirteen years, undertook a request from a customer who lived over 200 miles away. Not only was Darrel prompt, he delivered, setup and removed the customer's old patio furniture. The customer then requested that Darrel load up and deliver their old patio furniture to their son's home in Richardson. Without hesitation, he obliged, and had the customer's old patio furniture at their son's house the same day.
When customers visit Sunnyland, they realize it's a lot more than just a store where they can purchase patio furniture; it's a place where the sales staff is a trusted friend, the office team always has their best interest at heart, the delivery team makes the impossible happen and the owner is there every day, happy to help in any way he can.
Sunnyland Furniture - Dallas / Fort Worth's Outdoor Casual Furniture Superstore | 7879 Spring Valley Road Dallas, TX 75254 |
972-239-3716
Copyright 1970-2023 &copy Sunnyland Outdoor Patio Furniture of Dallas Fort Worth - The Ultimate Casual Furniture Superstore for Texas