Top 6 Design Tips: Small Backyard Patio Ideas from Sunbrella
Posted On: 09-18-2019
By: Sunbrella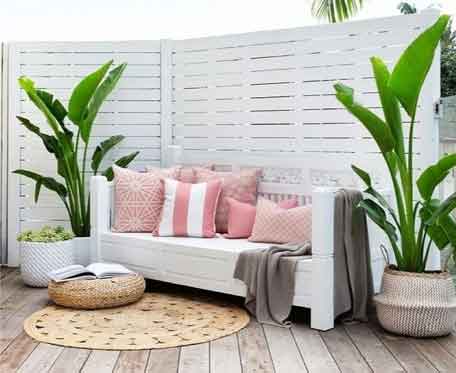 Tip #1: Make it Multi-Functional
The first step in a small outdoor patio redesign is to assess your space and find ways to maximize your square footage. Multifunctioning pieces will give your patio more purpose without making the common mistake of over-cluttering. A pouf or stool can serve as a side table, that also doubles as extra seating when you are entertaining guests. Depending on what your space allows, try a sectional set or pair of Adirondack chairs that allow for both lounging and casual dining. Choosing a fabric that can serve these purposes is just as important as the furniture itself. Refresh your existing upholstery with Sunbrella fabric to ensure your outdoor furniture can withstand the functions (and elements) of your patio, providing comfort for a cozy night and durability for the inevitable spills of an outdoor dinner party.
Tip #2: Incorporate Greenery
Include natural elements in your patio redesign by adding a plant (or five!). Using greenery is a great way to tie your space together while adding some dimension to your small outdoor patio. Not only do plants bring a cheerful element to your Feng Shui, but they can serve multiple purposes, too. If you find yourself in an urban jungle, plants such as bamboo can be used to reduce noise and create privacy barriers. If you live in a particularly humid region, flowers such as petunias will act as natural bug repellents while adding a beautiful color feature. Even when decorating patios with extremely limited space, window boxes or vertical gardens can be vibrant additions to your outdoor sanctuary. If your porch or patio doesn't get much sun, pick a low-light plant for easy maintenance. Regardless of your style, there are endless patio plants to choose from that will naturally complement your redesign and make the space feel complete.
Tip #3: Incorporate Shade
No small patio decorating idea would be complete without incorporating a shady spot for cooling off. Especially in regions where the hot summer temperatures can make your backyard muggy and uncomfortable, shade is a necessity in getting the most out of your outdoor living space. Outdoor awnings are space savers and can be used to match your overall aesthetic, allowing for an easy indoor to outdoor flow. Sunbrella's waterproof fabric provides an excellent source for shade and resists fading, preventing a drab and aged look that most awnings fall victim to. If an awning is not practical for your patio, a retractable umbrella may better fit your needs without taking up too much space.
Tip #5: Experiment with Lighting
If you are only using your outdoor patio or terrace during the day, you are missing out on half the fun! Lighting is essential in ensuring that your patio use isn't limited to only daylight hours. Luckily, having a smaller space to work with means that just a little bit of light can go a long way. Hanging bistro lights overhead or along your fence will add a warm glow to any outdoor refuge. Even if you have limited access to outdoor power, you can use lanterns or torches to illuminate your space. As the sun sinks down, your patio will transform into a cozy, lively retreat sure to give your neighbors patio envy.
Tip #6: Live in Color
Don't let a lack of space deter you from incorporating vibrancy in your small outdoor patio ideas and decor. Add some final touches to your outdoor refresh with that much needed splash of color. You can use a mix of patterns, textures and color to keep things interesting and brighten your space. Throw pillows are the simplest way to create colorful accents and are easy to swap out with the change of seasons and trends. If pillows aren't enough, make a statement with a patterned rug, making your small outdoor area feel like a second living room. Sunbrella's water and fade resistant fabric will ensure your pop of color lasts through intense summer rays.
Take a page out of Kelley Nan's book and add pops of color in several areas throughout your space!
In the peak season of outdoor leisure and entertaining, redecorating your patio, no matter the size, will ensure you make the most of your outdoor space. Not only will you impress your guests, but an outdoor makeover can increase the value of your home as well. Use summer as your inspiration to think outside the box, allowing your patio to reach its full potential for year-round enjoyment. For more outdoor inspiration, follow @sunbrella for ideas on how to utilize your outdoor space for every season!
Sunnyland Furniture - Dallas / Fort Worth's Outdoor Casual Furniture Superstore | 7879 Spring Valley Road Dallas, TX 75254 |
972-239-3716
Copyright 1970-2023 &copy Sunnyland Outdoor Patio Furniture of Dallas Fort Worth - The Ultimate Casual Furniture Superstore for Texas