Patio Furniture Trends that Makes You Want to Take It Outside
Posted On: 07-22-2017
By: Deborah Holt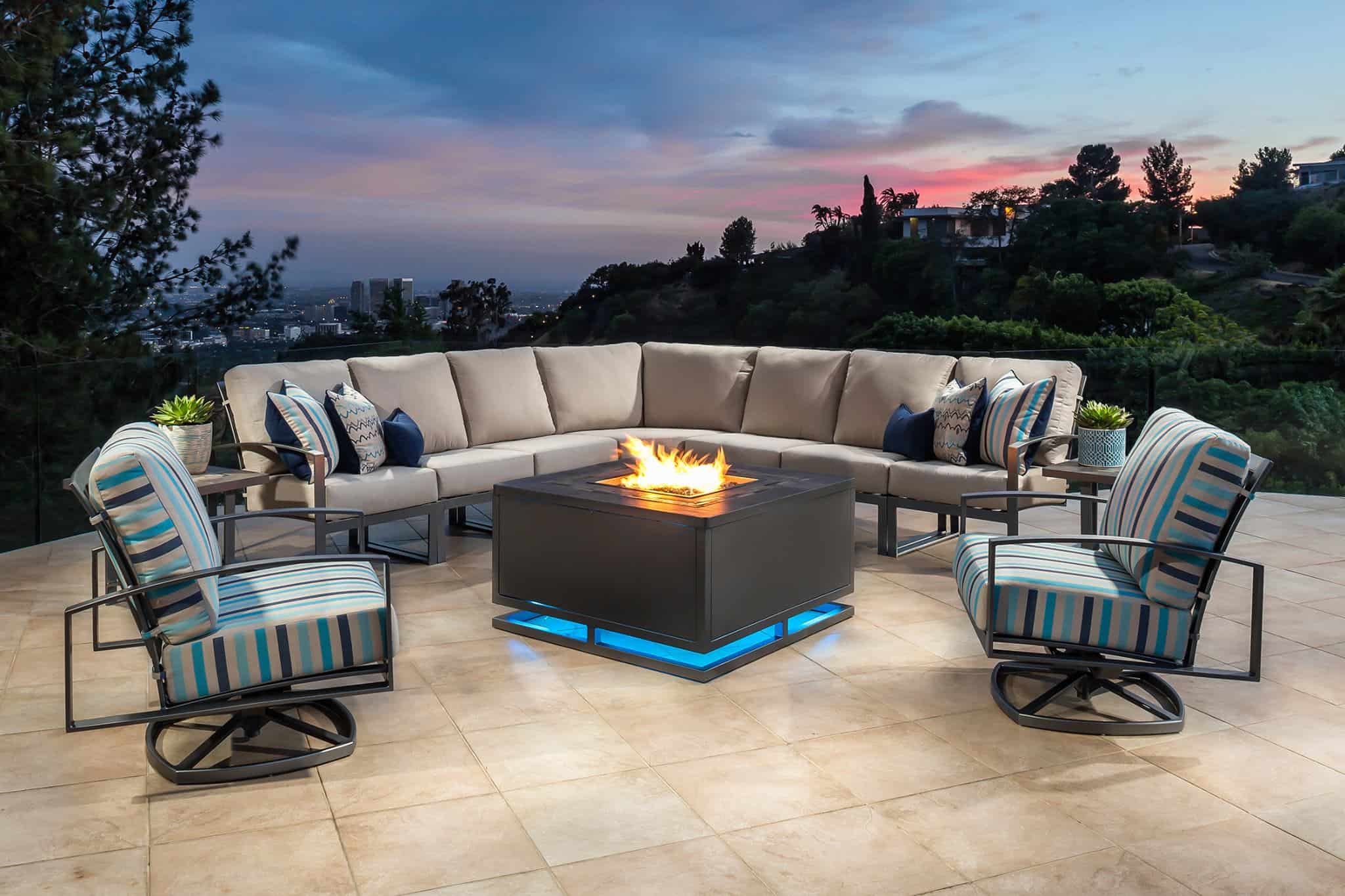 The new living space is no longer the walled in living room trapped inside your home, it's now the open-air, wall less, family room that you never want to leave.
Long gone are the days of one-size-fits-all outdoor furnishings. We live in a world of complete personalization. We even want to put our names on everything we own. Outdoor manufacturers have responded with furniture pieces that inspire personalization and are ahead of the trend curve.
This year has seen a wave of outdoor blues, mainly dark and spa hues, frequently used on cushion sectionals, accent pillows and rugs. Dark finishes and weaves have been a mainstay, but light gray woven seating has also been a best seller.
Don't want to deal with outdoor cushions? Outdoor manufacturer Woodard designed a collection that has reticulated foam hidden inside woven furniture, the Reynolds collection. This is a big hit for those looking for style and comfort without the fabric.
Don't just set the outdoor table, set the mood with outdoor table lighting. LED mood lighting is being introduced into fire pits, like the O.W. Lee Zen fire pit which glows in over 1,600 colors and can be customized with finishes and table top variations.
White finishes continue to be on trend this year giving outdoor collections a modern and crisp look. It pairs well with dark blue or patterned cushions, but if you're going for an ultra-contemporary look, pair with gray or black and white striped cushions.
It's hip to be square. At the Casual Premarket in Chicago, it was noted that squared chairs are replacing curved arms and geometric shapes are being used in the designs of everything from sofas and chairs to tables and accents.
Woven furniture is fading from dark to light going into 2018 as the style is becoming more of the coastal, laid back vibe. This trend can also be translated into farmhouse chic designs as well.
Want to see more patio trends? Visit out Instagram to see what's trending on the patio.
Sunnyland Furniture - Dallas / Fort Worth's Outdoor Casual Furniture Superstore | 7879 Spring Valley Road Dallas, TX 75254 |
972-239-3716
Copyright 1970-2023 &copy Sunnyland Outdoor Patio Furniture of Dallas Fort Worth - The Ultimate Casual Furniture Superstore for Texas