Replacing Outdoor Cushions
Posted On: 09-11-2020
By: Deborah Holt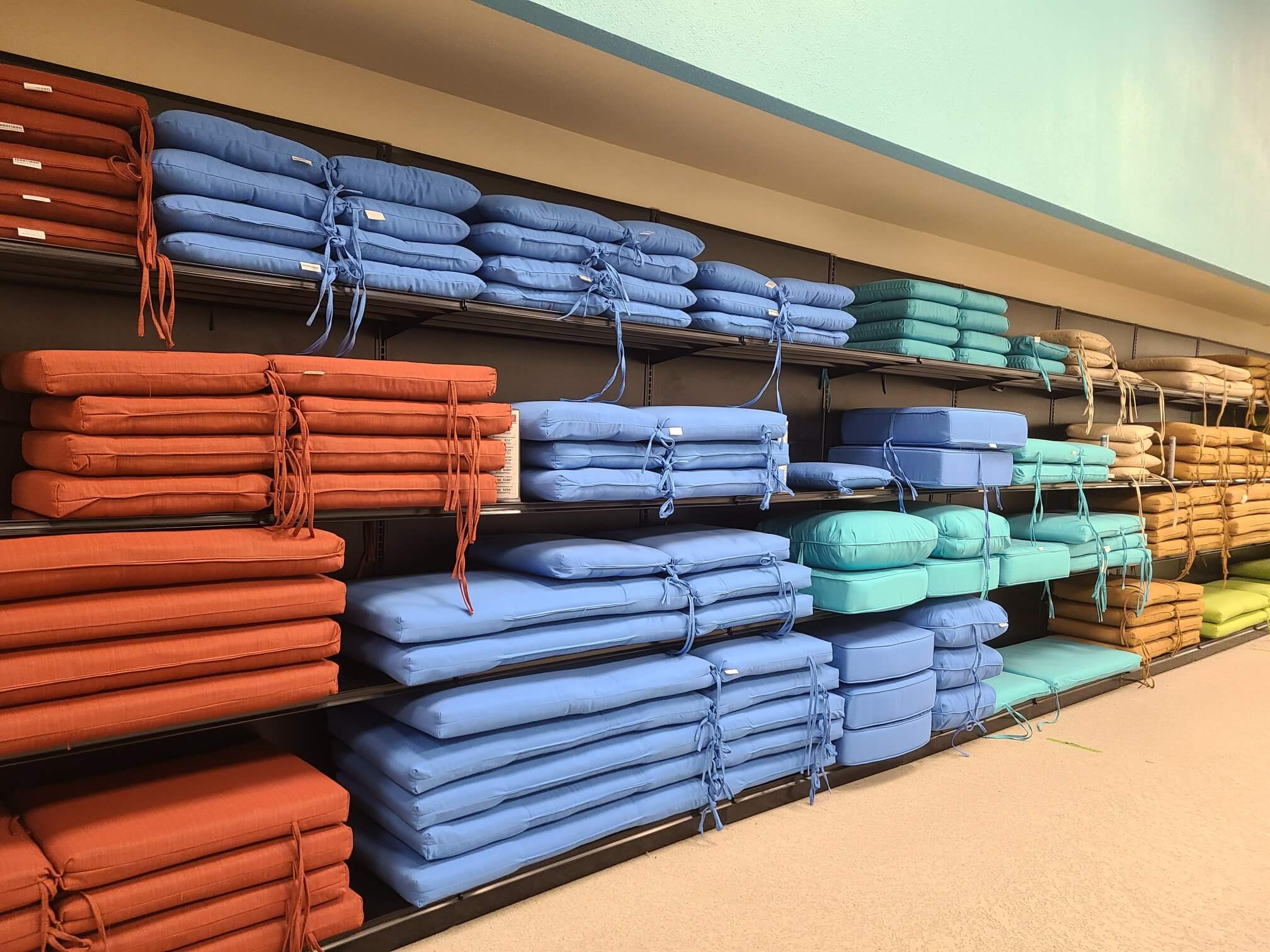 When the time has come to bid farewell to your well-loved outdoor cushions, you have a few options to get your outdoor furniture back to its comfy, good-looking self.
Replacing your outdoor furniture cushions is also a great way to revamp your outdoor space and to spruce up your patio furniture.
Recover
The first option for your cushions is to recover. If your patio cushions are still in good shape, but the fabric has got to go, you can recover them.
Most patio furniture stores work with a local cushion maker to provide this service to you either directly or by recommendation.
When you take your outdoor cushions to be recovered, you will need to bring all of the cushions with you. You will also need to pick a replacement fabric either provided by your patio furniture retailer or by the cushion maker. This is a great opportunity to give your patio furniture an updated look with new Sunbrella fabric.
Replacement
If your cushions are ruined and you need complete replacements, you will need to bring your cushions, one of each size for measurement, and you will need to select a Sunbrella fabric.
Depending on the time of year, this usually takes from 4-8 weeks to complete the recover. Doing this during the winter months will expedite the time, plus, your patio will be ready for spring.
Note that generally, the cushion maker will not give you back your old cushions when making you new ones. They may need to cut them to get accurate measurements.
Custom Replacement
If you want to have an exact replacement of your cushions, an option for this is to order these from the manufacturer. This option is one of the more expensive options, but it ensures you get exact replacements of what you have.
This is also a good opportunity to change the fabric or add details like buttons and welt, if available. One of Sunnyland's Outdoor Consultants can place this order for you and help you with fabric selection and order time for your cushions.
In-Stock Replacement
Another option is to replace your cushions with stock cushions or special order cushions from the manufacturer.
Sunnyland Outdoor Living in Dallas and Frisco, carries a selection of replacement cushions in stock in a variety of colors and sizes.
Here are some of the cushions Sunnyland carries: ottoman cushions, 2-piece deep seating sets, 82"chasises, 79" chaises, 20" chair seat cushions, 3' bench cushions, 46" highback cushions and 36" L-pad cushions.
In Sunbrella fabrics: Canvas Capri, Canvas Aruba, Canvas Ginko, Dupione Sand, Dupione Henna, Astoria Lagoon, Astoria Sunset, Cork and Gateway Fuse.
Sunnyland also has a great selection of replacement cushions in closeout fabrics. These cushions come in an assortment of styles and colors. This is a great option if you're needing a single cushion or are looking for some fun prints.
No matter what you decide, Sunnyland Outdoor Living's Outdoor Consultants are here to help you figure out what will work bets for you and your outdoor space.
Call us today at 972-239-3716 to find out more about replacement cushions.
Sunnyland Furniture - Dallas / Fort Worth's Outdoor Casual Furniture Superstore | 7879 Spring Valley Road Dallas, TX 75254 |
972-239-3716
Copyright 1970-2023 &copy Sunnyland Outdoor Patio Furniture of Dallas Fort Worth - The Ultimate Casual Furniture Superstore for Texas