What's New at Sunnyland this Spring
Posted On: 03-01-2015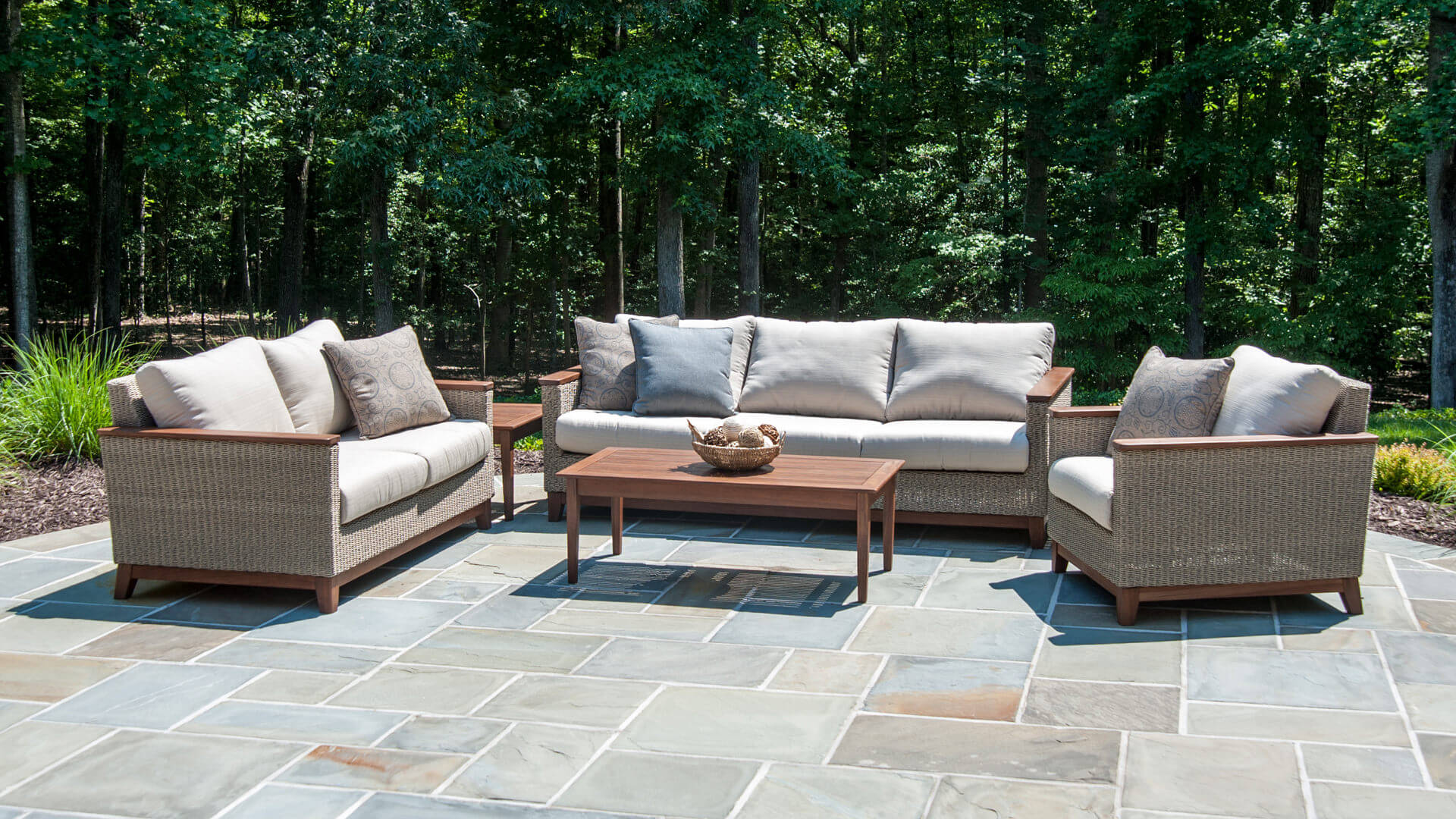 Whether you've been a customer of ours for the past 44 years or you're in the market for quality outdoor furniture for the very first time, there are plenty of new things happening at Sunnyland this spring.
You see it at store after store after store. 50% Off. 70% Off. Even 90% Off?? How can they even be in business with "discounts" so steep? At Sunnyland, we don't play the fake discount game raising prices just to mark them back down. Shop around and make sure to compare the FINAL price -- not just the amount of the discounts. You'll see that with Sunnyland's Sun-Sational Savings on collections such as St. Augustine Cast Aluminum by Hanamint and Anthem Cushion by Mallin, you'll get a great price with NO games and NO gimmicks -- just quality and value at it's best.
At Sunnyland, we have a simple philosophy: we offer quality outdoor furniture at the best price possible.
With this in mind, we continually shop our competition to ensure we have the best pricing. We're confident that you won't find a better price on our products at any other local store. Should you find your exact selection at a better price under the same terms and conditions for less, we'll match it. Simply provide us with any local competitor's website, ad, or quote showing a better price on one of our products. For complete details on our price match guarantee, click
here
.
We know that you have a busy life. There's work, carpool, preparing dinner, little league, family picnics, and of course watching the Mavericks and Stars playoff games. That's why Sunnyland is now open weeknights until 7 PM. Stop by on your way home from work and leisurely experience our 35,000 square foot showroom. Plus, Sunnyland is the only outdoor furniture store in North Texas open late until 9 PM on Thursday evenings. We're here for you -- morning, noon, or night.
Interior Designers -- as an ASID Industry Partner, we understand that you and your clients have unique needs as you create a one-of-a-kind outdoor paradise. That's why we created our Exterior Designer Program for the trade. Qualified interior designers can enjoy great benefits including designer discounts and price protection, checkout goods on approval, complete access to catalogs plus loaner fabrics and finish samples, in house white glove delivery, and more. For more information on our Exterior Design program as well as an application, please click
here
.
Are you looking for the most comfortable outdoor furniture in the world? Look no further than Sunnyland. Our buying team personally sits in hundreds of chairs at the International Casual Market looking to find the plushest high quality chairs that they can find. Come in and personally experience the very best chairs including the Monterra Club Chair by OW Lee and the Westfield Club Chair by Mallin.
You've seen all of these great products at Sunnyland but you tell yourself that you just can't find money in your budget for the very best outdoor furniture. Don't worry, you don't have to settle for some cheap patio furniture from the big box store - we have the perfect collections for you too. Our buying team works with our manufacturers to bring you some great dining and seating groupings at unbelievable prices. Our Extreme Value series start at just $999 and include aluminum, wicker, and wrought iron collections from brands like Hanamint, Woodard, and Northcape. It's the same Sunnyland quality you have learned to trust for the past 44 years -- now at an exceptional value.
Sunnyland Furniture - Dallas / Fort Worth's Outdoor Casual Furniture Superstore | 7879 Spring Valley Road Dallas, TX 75254 |
972-239-3716
Copyright 1970-2023 &copy Sunnyland Outdoor Patio Furniture of Dallas Fort Worth - The Ultimate Casual Furniture Superstore for Texas