Why You Should Choose a Big Green Egg
Posted On: 06-18-2020
By: Big Green Egg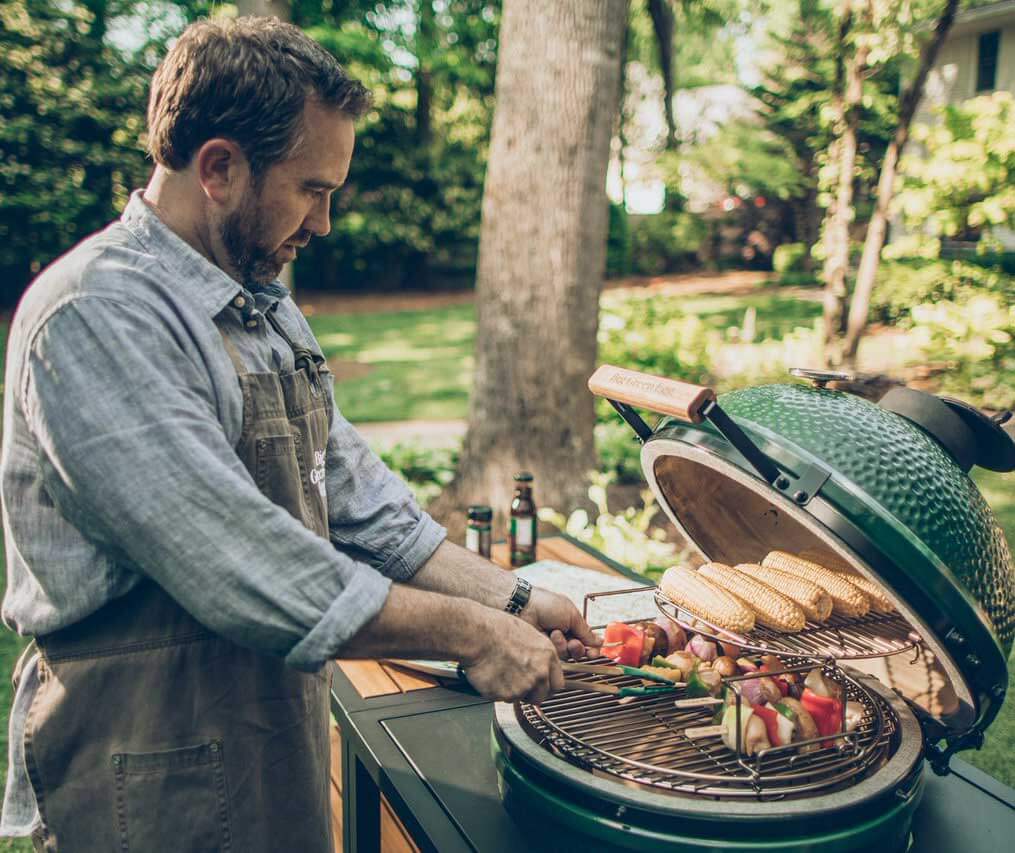 The Most Versatile Cooking Device Ever...
Is it a Grill, an Oven or a Smoker?

The answer is YES!
It's a...Grill
Sear the perfect steaks, pork chops or burgers on the EGG. High temperature "steak house" grilling – even at 750º F / 400º C – is quick and easy! Using the two dampers for accurate control, you can lower the heat to a more moderate temperature for other grilled foods. Grilled fish and seafood turn out moist and tender with a flavor-packed crust unmatched by other cookers.
It's an...Oven
Using the indirect cooking method with convEGGtor, the EGG bakes bread, pizza, casseroles, cobblers and pies better than your kitchen oven… you may never cook indoors again! The Big Green Egg retains heat and moisture so well that foods don't dry out! Roasted poultry, lamb, beef and vegetables are naturally tastier because the juices and flavors stay locked inside.
It's a...Smoker
The insulating ceramics of the Big Green Egg allow you to precisely control the temperature even at low heat. A controllable 200 to 350°F / 93 to 177°C gives succulent results with smoked turkey, ham, lamb, chicken, ribs or any of your favorite cuts, infusing them with the aromatic wood smoke flavor. Want to slow cook at low heat for sixteen to eighteen hours… no problem!
Ease of Use
Quick and Easy to Light
Big Green Egg's Lump Charcoal is made in the USA from 100% natural oak and hickory for superb performance and flavor. Lighting the charcoal is quick and easy which will have your EGG to cooking temps in minutes. More importantly, your food will have a natural and wholesome quality without any chemical aftertaste.
Pricise Temp Control
You have total control over temperature at your fingertips by easily adjusting the patented air flow system, and the calibrated temperature gauge provides precise readings from 150º to 750ºF.
Easy Clean Up
The unique green glaze of the Big Green Egg stands up to the elements and wipes off easily without chemical cleansers. Inside you'll find an easy to clean high-quality stainless steel cooking grid!
Sunnyland Furniture - Dallas / Fort Worth's Outdoor Casual Furniture Superstore | 7879 Spring Valley Road Dallas, TX 75254 |
972-239-3716
Copyright 1970-2023 &copy Sunnyland Outdoor Patio Furniture of Dallas Fort Worth - The Ultimate Casual Furniture Superstore for Texas